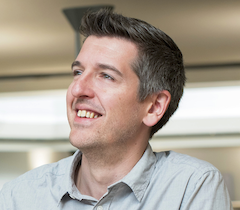 The road to Digital Britain represents a high-speed opportunity for the channel to grasp unprecedented levels of technological innovation, but the project is the subject of hype galore, according to David Barber, Head of Product at Comms Vision Platinum sponsor Zen Internet, who explains why we should not yet be dazzled by the nation's transition to a digital comms infrastructure, and why the customer experience matters most.
The broadband industry is on the verge of a technological revolution – and can sometimes seem forever on the edge of the next game-changing breakthrough. As a business operating in the channel you've probably heard that before. This time round, 5G and full fibre are the technologies to sweep through the industry like wildfire, burning off the old scrub and clearing the way for a new generation of ultrafast applications to bloom. At least that's what the hype would have us believe. In reality, broadband doesn't really work like that. It prefers evolution to revolution.
End users want reliable connectivity and a smooth customer experience, and they won't be hurried into adopting technology they don't currently see value in. At the end of 2018 nine million premises were still connected using 'ancient' ADSL. And for all its very real promise, FTTP had only connected just over half a million homes and businesses by the start of this year. Which isn't to say that these new technologies aren't important. They truly are, and usage will steadily grow. FTTP and G.fast will eventually reach a tipping point, and 5G will follow.
End users won't be hurried into adopting technology they don't currently see value in
The new Prime Minister has announced ambitious targets for full fibre coverage that he may or may not be able to meet. But with broadband, change tends to be gradual. There is no doubt that a continual cycle of technological innovation is essential to the industry, allowing channel businesses to provide end users with new and better ways of connecting, communicating and working. But for the time being many of those users (business and home) will continue to want a first rate experience with the technology they already have.
Yes, they will consider transitioning to FTTP and 5G eventually, but it's worth remembering that most people – and most businesses – are not early adopters. Many are happy with the speeds they get now. They need other reasons to trust a broadband supplier. In a switcher's market, that trust is key. When you look back across ADSL, SDSL, LLU and GEA FTTC, has partner success ever really been about the technology? Technology is an enabler. The application of the technology to meet customers' needs is the most important thing.
Innovation needs infrastructure
At Zen, we certainly keep up with technology. We were one of the first ISPs in the country to offer FTTP and G.fast. Our channel partners are already supplying ultrafast broadband to their customers wherever it is currently available. But when it comes to broadband technology, what you do behind the scenes is just as important as the headline news. Our partners rely on us to have the infrastructure in place to service our ultrafast offer and its ever-increasing demands, while ensuring that end users on ADSL and FTTC connections suffer no ill effects.
Customer experience will remain as important in the new technological age as it was in the last, and the one before that
It's a challenge that ISPs approach in different ways. While some rely entirely on the infrastructure of their supplier, Zen has taken a different path. We operate by far the largest independent data network in the UK, and aim to have 700 unbundled BT exchanges by 2021 (up from 450 today). That investment allows us to bring the vast majority of end users onto our highly reliable and scalable on-net network. Why do we bother, when so few of our competitors are unbundling BT exchanges? We do it because we believe that, as resource-hungry FTTP and G.fast gain traction, partners need an even more robust supply chain on which to build a new generation of valuable cloud-driven services.
Broadband market flattens – but opportunities remain
That's especially true when you consider that the broadband market is flattening. To grow, a channel business needs to take customers off someone else. That's a challenge, but the opportunities are there. For example, we're already starting to see FTTP and GPON-based services start to cannibalise EAD-based Leased Line services. XGS-PON services are soon to enter trials and are designed to support up to 10Gbps symmetrical access, further moving broadband access technologies into the space currently held by dedicated EAD type services.
This technological change presents a real opportunity for resellers to disrupt larger incumbent providers which have legacy revenue lines to protect. But to fully exploit the opportunity partners need a reliable, responsive and technologically sophisticated supply chain behind them.
New kids on the block
A new wave of altnets has emerged to help provide that support. The question is, how many of them are in it for the long-term? How many will be there to support resellers and their customers through their digital transformation journeys and beyond? How many are building backhaul networks to support the unprecedented growth in utilisation? And just as crucially, will these new arrivals be able to provide the quality of customer experience end users expect? As we've said, it's a switcher's market, and resellers who utilise several altnet providers to service their customer base will have to ensure that customer experience remains consistent across that dispersed supply chain. After all, it is their reputation at stake.
At the moment we don't know how all this will pan out, but one thing is clear – customer experience will remain as important in the new technological age as it was in the last, and the one before that.
Customer experience in the ultrafast era
Price transparency: Being clear and transparent in service pricing is refreshing for customers.
Easy provisioning: A smooth and predictable provisioning experience can make all the difference.
Consistency of speed: Full fibre access is only part of an end-to-end service. Delivering a consistent speed even at peak times takes significant investment and a unique approach to network management.
Service diversity: Full fibre improves the speed and last mile consistency of available bandwidth, but in the short-to medium-term FTTP coverage will remain a postcode lottery. 5G, meanwhile, will be patchy at best. Resellers will continue to need a kitbag of different access technologies.
Access to help: Partners need access to knowledgeable and available support services.
Fix times: Broadband technologies are being used to connect services that are more business critical. Getting problems fixed against realistic and agreed SLAs is of ever-greater importance.
It takes Vision to be a leader
Comms Vision is the leading annual leadership forum for CEO, MD and CTO delegates making up the major league of the UK reseller community. Places are limited and by invitation: If you would like to join us this year, please register your interest to attend at www.commsvision.com