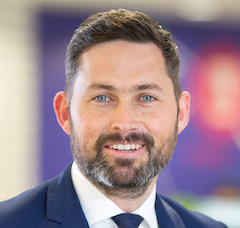 As Britain's legacy infrastructure continues to release its stranglehold on business communications it's time to start planning for what will be a 'defining period' in the transitory Digital Britain 2.0 era, writes Gamma's Managing Director for Channel Daryl Pile (Comms Vision Platinum sponsor).
With an ever increasing number of new entrants to the market and customer demand for joined up ICT environments ever growing, it is important for channel partners to explore how to differentiate themselves and maintain their value for the long-term as we advance towards Digital Britain. In a digital world where customers can buy many services online, long-term success in the channel will depend on more than product alone. An abundance of digital channels means customers are always in contact and expect businesses to follow suit by being contactable 24/7, 365 days a year. For these businesses to thrive their technology needs to be up to scratch. Whether that's the channels they utilise for improved customer experience, the internal platforms for staff to communicate or the connectivity that underpins it all. Experience is everything, and for the channel this means understanding and defining how ICT solutions will improve the experience at each point – for the user, the team, businesses and customers.
As we progress towards Digital Britain today's businesses face a bewildering array of uncertainties as their environments change at an increasing rate. It is without doubt more complex than ever to run a business. Of course, all businesses are inevitably subject to uncertainty, whether that's from internal or external threats arising from technical, management, operational or commercial issues. For the channel, this uncertainty can lead to opportunities that can be exploited if recognised early enough. Within the next five years there will be key opportunities for the channel to unlock in the SME and mid-market space.
Within the next five years there will be key opportunities for the channel to unlock in the SME and mid-market space
UCaaS has become a key component in the digital journeys organisations have embarked upon as they seek to gain competitive advantage in their markets; and the channel, which has largely secured the SIP market, is primed to lead the UCaaS charge. Despite the strong appeal of UC services to many businesses, penetration into the SME market is low with only 10 per cent of organisations embracing the technology as of 2017. For the channel (already the trusted providers) this is the sweet spot. SME workforces are becoming increasingly more remote, they need to be able to respond to their customers quickly and they can't afford a team of people to run their IT systems. They are looking to grow their business and compete with mid-market and large enterprise organisations, and UC is vital in helping them achieve this.
Beyond targeting SME organisations, the channel has a clear opportunity to go after the more established mid-market businesses with a UCaaS proposition. Legacy technology is a key burden, as is the dynamics of their workforce who may feel they are not ready for a business communication overhaul. By adopting a consultative approach for mid-market businesses and recognising the challenges they are facing, channel partners can provide a tailored solution, relieving their pain points – whether that be attracting a new millennial generation or needing to boost overall business productivity.
While offering the latest and greatest in technology is important, it's also vital for the channel to keep an eye on the opportunities within their existing base. With BT's plans to stop taking new ISDN orders from businesses in 2020, and switch off the service completely by 2025, there is no longer a choice. UK businesses still using this legacy service must consider alternative options now. A survey of Gamma's channel partner base in January 2019 found that 90 per cent of respondents are still maintaining an ISDN base. While it also showed that four in five partners have started migrating their existing ISDN base to hosted voice or SIP, there is still much work to be done. Channel partners need to act quickly as ISDN customers are ripe for other providers to secure as their own. The race is on!
With new entrants into the market it is essential for channel resellers to be shrewd when choosing who to partner with. We would suggest that partners look at all elements of the service that a technology partner can provide. The functionality of the service is important, but it is key to ensure that the model that they provide suits the long-term aspirations of the channel partner's business. The bedrock of Gamma's channel offering will always be that the customer relationship and contract is wholly owned by the partner. As a wholesale provider this has served us well, and as the true channel community has become smaller we would encourage partners to remain vigilant to entrants that offer outside this model.
In a digital world where customers can buy many services online, long-term success in the channel will depend on more than product alone
The channel must plot a course to ensure their business model permits long-term success. Beyond partnerships, Gamma believes the channel can establish their value in the solutions they offer to businesses, while providing an unrivalled customer service wrap. Adopting digital sales and marketing strategies to keep ahead of the curve, the channel needs to contextualise their offering to solve real business issues. Instead of selling just a business phone system, look to bundle the offering with collaboration tools, instant messaging, voice and video communication – all are available to users in the office or on the move.
The success that the channel has seen in the SIP market over the past five years is proof of their influence and power when competing for a customer. The channel continues to outperform and remain highly competitive, even when selling products that have a homogeneous feature set, regardless of the provider. Ethernet, mobile and broadband – all products where the buyer's purchasing decision is heavily influenced on price – are still seeing exceptional sales numbers from the channel.
For many channel businesses the next five years will be a defining period and key to their success will be adopting a flexible approach. Furthermore, as technology becomes more complicated there is an opportunity for ICT providers to remove complexity for the customer and supply simple bundled solutions with a superior service wrap. This is key to differentiating and remaining competitive against the larger players.
It takes Vision to be a leader
Comms Vision is the leading annual leadership forum for CEO, MD and CTO delegates making up the major league of the UK reseller community. Places are limited and by invitation: If you would like to join us this year, please register your interest to attend at www.commsvision.com