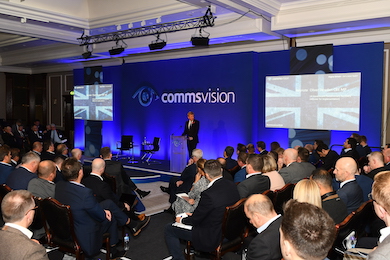 This year's gold standard Comms Vision Convention (8th-10th November, Gleneagles) will take a multi-faceted research-led approach to exploring why many organisations may only be scratching the surface of their competitive potential, and share insights into what is required to forge a long-term edge over competitors based on four key categories – Culture, Industry Collaboration, Technology and Leadership. Here, Comms Vision Platinum sponsors provide insights into the cultural enablers of competitive advantage and the extent to which business leaders may need to amplify them.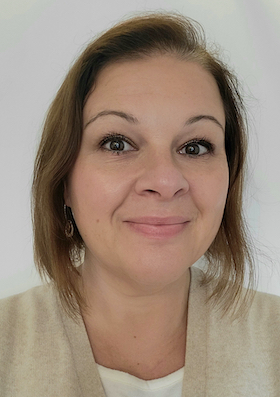 Having a distinctive competitive advantage is essential for business success, and turbo boosting the drive for growth through culture is critical to helping people be their best and engaged with the strategy. According to Sarah Kirton (pictured left), Group Sustainability Director, Gamma, culture resides 'at the very heart' of competitive advantage. "It shapes how we operate, how we engage with each other and how we relate to our customers," she stated. "An empowering culture aligned with business strategy can drive innovation, enhance employee engagement, customer service and lead to superior performance – as well as the capacity to attract and retain talent."
On the flip side, she noted, a weak culture can manifest in poor communication, low morale and resistance to change, which can ultimately undermine a business by creating inefficiencies, high staff turnover and a loss of competitive edge. "Strong culture is not built overnight," she added. "It requires constant commitment, nurturing and alignment with the company's mission and values. In this fast-paced digital age, culture is no longer a soft aspect of business, it's a strategic imperative. Embracing this truth not only allows organisations to navigate change successfully, but also to thrive amidst the complexities of the digital era."
Kirton also noted that appraising the current cultural state of a business and identifying areas of improvement are crucial in creating an action plan tailored to unique contexts. "It's not just a box ticking exercise but a strategic action to ensure a business's future relevance and success," added Kirton. "Gamma has created an environment where our culture and values are not just statements, but lived and breathed every day. This commitment has been a critical factor in our ability to simplify the complexities of technology and bring order to chaos, proving that a strong, well-aligned culture can indeed become a company's competitive advantage."
Three of the most important enablers of cultural change, believes Kirton, are strong leadership that sets the tone, communicates expectations and models desired behaviours. Secondly, transparent and ongoing communication about the reasons for organisational changes and how they align with the mission and strategy. And thirdly, an investment in training and development to equip employees with the knowledge and skills to adapt to the evolving culture. "Involving employees in the evolution process and recognising and rewarding behaviours that align with the desired culture can help facilitate cultural change," commented Kirton. "Providing ongoing learning and development opportunities can support cultural shifts by fostering the necessary skills and mindsets."
Cultural backbone
No surprise, therefore, that Kirton said culture is the backbone of Gamma. "To amplify this, we plan to reinforce our cultural traits through consistent leadership behaviours, regular team building exercises and inclusive decision making processes," she explained. "Our culture is designed to be empowering and human-centric, making it a key tool in engaging our people and aligning them with our strategy. To amplify and reinforce our cultural traits we plan to invest more in initiatives such as our Gamma Groups that encourage and reward cultural alignment, as well as focusing on the recruitment of individuals who demonstrate their own personal alignment with our values."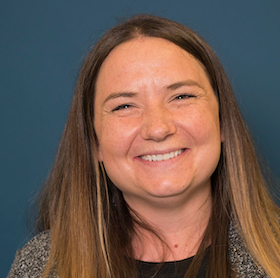 Lisa Hewitt (pictured left), People Director, TalkTalk Wholesale Services, shed light on how the company amplifies its key cultural traits, emphasising the values that define the organisation and reinforcing these values through various channels such as internal communications, recognition programmes and regular employee engagement activities. "By consistently showcasing our cultural traits we create a shared sense of identity and purpose, strengthening our cultural distinction and differentiation in the market," she stated.
Hewitt also underscored the extent to which culture can provide a differentiated lead in the market. "Culture plays a significant role in shaping a company's competitive advantage," she said. "It influences employee motivation, engagement and productivity, ultimately impacting customer satisfaction and business outcomes. A positive culture attracts and retains top talent and fosters collaboration and innovation, which enhances overall organisational performance.
"On the other hand, cultural weaknesses can undermine a business in several ways. A disengaged culture can lead to decreased productivity, increased turnover and diminished customer satisfaction. It can create silos, hinder effective communication and stifle creativity and innovation. We recognise the importance of culture in driving competitive advantage and understand that a strong culture empowers individuals to perform at their best and aligns them with our strategic priorities."
Leadership matters
Hewitt agrees that the most important enablers of cultural change include strong leadership commitment, effective communication and employee involvement. "Leaders must demonstrate the desired culture, communicate it consistently and involve employees in shaping and implementing cultural initiatives," she said.
"Providing learning and development opportunities, recognising and rewarding desired behaviours and fostering a culture of trust and psychological safety are also crucial. By leveraging culture to empower individuals, align with your strategy and create a distinct identity, organisations can drive innovation, engagement and performance. It is vital to address cultural weaknesses promptly and proactively to ensure long-term success."
Virgin Media O2 Business has introduced a structural framework that supports its culture, which has inclusivity at its core. The company operates five Belonging networks, each supported by a member of the Executive Committee: These networks are categorised as Empower (which champions talent from underrepresented ethnic groups), Prouder (the LGBTQ+ network), Ultraviolet (which prioritises greater equity and equality for disabled people), Indigo (which supports neurodiversity) and Gender Equality.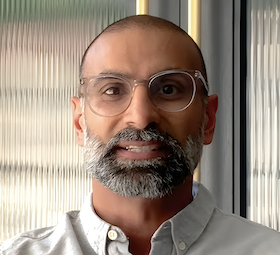 "It's important we offer an inclusive and vibrant work culture that is backed by tangible initiatives," stated Raza Baloch (pictured left), Head of Business Partners & SI, Virgin Media O2 Business. "To ensure people can feel engaged they need to know they can express who they are and that their individuality is embraced. It's when people are challenged or dismissed that culture becomes contaminated. It's therefore crucial for businesses to build workplace cultures that break down the hidden barriers that force people to suffer in silence."
Value alignment
Baloch cited global LinkedIn research that shows how important it is for people to work for a company that holds the same values as themselves. So it is important for employers to give the magaphone to their cultural priorities and be seen as culturally active. "By amplifying your company's voice and showing commitment to your people you can attract the best talent from every industry," stated Baloch.
"We all have valuable experiences and unique perspectives, and each person's difference is their strength. Therefore, to build a progressive company you have to elevate your people and give their ideas a platform. The more effort put into this, the more attractive employment prospects become. Offering employees dedicated resources to support their growth and ambitions – from networks to mental health support – as well as opportunities to volunteer and bring their ideas for the company and its culture to life, are all important enablers of cultural change."
Virgin Media O2 Business's Matchbox learning and development initiative plays a key role in this, enabling people to pitch ideas to improve the company. "Whether its offering face-to-face time with execs or mentors and providing internal investment and team support to help people implement ideas, we've created an ecosystem to drive innovation and change," added Baloch.
Normalising conversations in which people can vocalise any challenges they are facing is also key to facilitating a culture based on trust, transparency and belonging, noted Baloch. "Our Employee Voice structure facilitates constructive two-way communications between our people, ensuring an open and honest relationship and a flow of information," he added. "Your purpose and values should underpin everything you do, and if they are healthy, well communicated and prioritised, people will bring their best selves to work."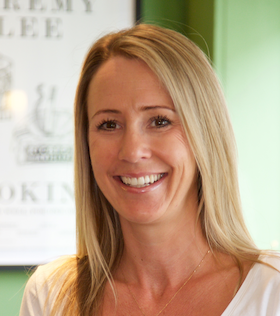 Hayley Duckmanton (pictured left), Chief People Officer, Giacom, says cultivating an environment that promotes open communication has been essential to keeping Giacom's people engaged with the overall strategy. "We encourage team members to provide feedback in many different forms, whether that be in person, during a regular Team Talk session or through feedback forms, the company Intranet, or by joining one of our focus groups and forums," stated Duckmanton.
"Communication is also the foundation of any good business relationship, so it's important to foster a culture of open communication, internally and externally. People should be encouraged to be informative and helpful, but also to speak their mind and say it how it is. When culture isn't right, this is just as noticeable. People will become frustrated and demotivated, and this will quickly become apparent in dealings with customers and the wider public."
Partnerships
Duckmanton reflected that the age old tenet 'people buy from people' is still true today, especially in the channel where forging the right partnerships is critical for growth, productivity and long-term success. "Sophisticated ordering portals and self-service options are indispensable, but they'll never be a substitute for having access to helpful people and the right expertise when you need it," she said. "Happy and engaged people provide a better, more attentive service. On this basis alone, culture is absolutely a competitive advantage. It's the foundation of almost every interaction throughout the partner lifecycle, the effectiveness of which arguably determines whether a relationship will be successful, or whether it even exists in the first place."
Duckmanton concedes that culture change is perhaps one of the most challenging areas of business transformation. "It's not like changing a logo or updating a process," she added. "It exists in the minds of your people, in how they react to and approach situations, in the way they feel about the organisation, sometimes even in the way they feel about themselves. So making sure people are involved in the process of cultural change is essential if they're going to buy into it.
"Avoid making arbitrary decisions wherever possible. To become embedded in the business, culture change must be a collaborative process that's fed into by people and teams from across the business. True cultural change also requires support from the top down and leaders need to exemplify the culture changes they expect their people to emulate. We don't want rigid corporate policies, we embrace a fun, enthusiastic and vibrant company culture that allows our brand personality to shine and our people to thrive without restraint. Having an ESG strategy that seeks to address the concerns and inequalities that affect your people outside of their working lives is also a great way to support their wellbeing, while benefiting society as a whole."
It takes Vision to be a leader
Comms Vision (8th-10th November 2023, Gleneagles Hotel) is the leading annual leadership forum for CEO, MD and CTO delegates making up the major league of the UK reseller community. Places are limited and by invitation: If you would like to join us this year, please register your interest to attend at www.commsvision.com