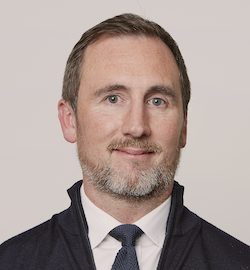 Having forced a deep shift in the UK's connectivity landscape, and with secure backing and gathering momentum behind its network rollout, market disrupter CityFibre (Platinum sponsor) and its partners continue to embrace a challenger mindset that will further accelerate business growth during the Golden Triennium and beyond, says Wholesale Channel Sales Director Andy Wilson.
In September we announced that we'd passed more than two million premises in our rollout, with 1.8 million 'ready for service' (RFS) and able to place an order and be connected in as little as five working days. As well as homes, our services are also within easy reach of tens of thousands of SMBs and thousands more coming into reach each month, generating an enormous and growing opportunity for our wholesale partners. An opportunity that they need to address and capitalise on without delay. For despite the uncertain geopolitical and economic picture, faster connectivity and better service is what British businesses need and are demanding right now. They can't afford to wait until brighter economic conditions come around. They need to be ready to seize opportunities the moment they arise.
Quickening the pace
While the achievement of this latest milestone is hugely significant, even more important to our channel is the fact that we've been accelerating the pace of our rollout, building the second of those two million premises passed three times faster than the first million – we've learned how to accelerate and improve and that's exactly what we're doing. We set a target of the end of 2025 to reach eight million. We're a quarter of the way there already and once that programme is complete we will address approximately one third of the UK market. That will include 800k businesses, 400k public sector locations and 250k mobile/5G sites.
It has always been our mission to unlock the digital potential of entire communities and end the digital divide and digital poverty. To that end we're purpose-building a fresh, fibre-only network for the data age. One that enables partners to provide connectivity that's quick, reliable and can be depended upon entirely. Our infrastructure is free from legacy constraints, totally independent and provides open access to other network builders, enabling us as an industry to work together to deliver the very best networks across the UK.
We've learned how to accelerate and improve – that's exactly what we're doing
Research by the consultancy Hatch (Economic Impact of full fibre Infrastructure from CityFibre's Network), which we commissioned earlier this year, identified over £38bn in potential economic benefits, derived over a 15-year period, stemming just from our own rollout of future-proof full fibre infrastructure in 285 cities, towns and villages in England and Scotland. The research also showed that one in three of our locations have already been identified by the Government as most in need of levelling up, enabling us and our partners to further reduce the digital divide and focus our efforts where they're critically needed. The dependency on the Internet and connected technologies keeps growing and that's been magnified even more in recent times. That in turn underlines just how important our acceleration is – for businesses, public sector organisations, mobile network operators and of course the end user customers that partners will serve on our network.
Innovation is key
From April 2023 we'll be deploying XGS-PON access technology as standard across our network, enabling the provision of up to 10Gbps symmetrical connectivity, an attractive option for many customers and generating even more opportunity for our wholesale partners. Meanwhile, our new Business FTTP product, consumed locally and/or nationally, is now available across 75 towns and cities – delivering affordable, gigabit capable connectivity to enable businesses to achieve the economic growth and benefits available from switching to full fibre.
It has always been our mission to unlock the digital potential of entire communities and end the digital divide
Our investment in quality and our commitment to getting it right first time is already making us the network of choice for many in the business, public sector and residential markets and enabling our 'challenger mindset' to lead the industry. Some of our traditionally business-focused partners are also reaping the rewards from new opportunities in consumer markets that are booming as usage habits evolve and bandwidth demand soars.
 
Fully funded
Earlier this year we secured a debt package totalling £4.9bn, facilities that form one of the largest single financings dedicated to fibre deployment across Europe. The financing followed £1.125bn in equity investments that we closed in 2021 and fully funds our rollout to a third of the UK market by 2025 and the potential to add more by participating in BDUK's 'Project Gigabit' programme.
The industry is backing us too. More than 30 consumer ISPs and hundreds of business-focused partners have made us their network of choice. Our partnership model and close co-operation with them to drive awareness throughout the build process has proved highly effective, with mature locations such as Milton Keynes now exceeding 20 per cent take-up and growing.
Setting the challenge
This confidence is something that's reflected in our new branding and communications. The new look and voice are bold, impactful and vibrant. They reflect the positive mindset and momentum that we have and reflect our status as the nation's digital infrastructure challenger. As we continue our rollout, this fresh new image will help us and our partners to engage more effectively with customers and get the message across that the best way to improve their experience is to demand better and change their network.
Our partners can be confident that they're working with a provider that doesn't settle, that continuously strives for improvement and challenges unacceptable industry norms, sparking innovation, demanding more and striving for better – be that in terms of product, price, technology or service experience.
All this marks us out as a force for change in what is undoubtedly a challenging but exciting market. We're determined to keep raising the bar with better products, better services, and better economics. We've already achieved so much with our build programme, and our pace is accelerating, sweeping us ahead in the race to full fibre. It's time to rise to the challenge with us, to fully embrace the challenger mindset and aim even higher. We're in the right place, at the right time. Together, let's make a difference.
It takes Vision to be a leader
Comms Vision is the leading annual leadership forum for CEO, MD and CTO delegates making up the major league of the UK reseller community. Places are limited and by invitation: If you would like to join us this year, please register your interest to attend at www.commsvision.com