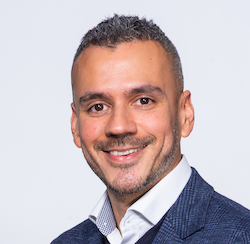 We cannot imagine the full scale of the market opportunity if we fix eyes solely on the Big Reset of 2025. What comes next is bigger still, according to Diego Tedesco, Director of Wholesale Fixed at Virgin Media O2 Business.
Despite difficult circumstances, UK connectivity has come on leaps and bounds over the last few years – driven by investment, innovation, and competition – alongside Government incentives, like Project Gigabit. Full fibre connectivity is lighting up towns, cities and villages across the UK. In fact, according to Ofcom, last year represented the most significant year-on-year increase in gigabit-capable coverage the UK has ever seen.
This great work continues as we race towards the Golden Triennium – the three-year period in the run-up to the PSTN switch-off – and an all-IP future. However, the connectivity industry can never stand still. We must think years, even decades, in advance. So, while the approach to 2025 will be hugely significant, we must also lay the foundations for what comes next.
Building a smarter future
So what does come next? For the connectivity industry, it's an enormous opportunity to help drive social change and business growth, whether that's through building a more inclusive workforce or unlocking access to online development opportunities. We've seen the power of digital to underpin the way we work and live more clearly than ever in recent years – and this will only continue past 2025, enabling new and smarter ways of operating in sectors from manufacturing to healthcare.
While the approach to 2025 will be hugely significant, we must also lay the foundations for what comes next
The productivity and efficiency gains enabled by the rollout of 5G technology will deliver £43 billion of value to UK GDP by 2030, according to a report by PWC. Meanwhile, the shift to Edge architectures (supported by high bandwidth, low-latency infrastructure) will drive further innovation, allowing businesses to harness next-generation applications like VR (virtual reality), AR (augmented reality) and IoT (the Internet of Things). In short, connectivity powers change. It drives productivity and transformation – and it opens the doors to new technology. But as we look ahead to 2025 and beyond, there are steps the channel will need to take to help bring this change to life.
Working together
At Virgin Media O2 we can leverage our expertise and scale to play a pivotal role in building out the nation's network infrastructure. Last December we finished upgrading our entire national network to gigabit speeds. Now, we're committed to upgrading our fixed network to FTTP, and earlier this year we saw a multi-billion pound investment that will take our fibre footprint to 80 per cent of the UK. However, in our mission to upgrade the UK we also recognise that we're not the only organisation providing fibre – and our fixed wholesale division exists to leverage our national fixed network infrastructure to help other network partners.
This collaborative approach will be important as we head towards – and past – 2025. Leveraging fixed infrastructure in this way will help the channel connect customers with the solutions they need to fit their requirements for the next decade. Whether that's building out their own core networks to better serve business and domestic users, or reselling business grade connectivity to end customers. For the UK to realise its potential – both in terms of harnessing tomorrow's applications and connecting communities across the country – it's vital that we continue to work together.
For the connectivity industry, it's an enormous opportunity to help drive social change and business growth
For service providers, this means working hand in hand with connectivity solutions providers (CSPs) and resellers to create new propositions and innovations. By doing this, we can create an environment that allows them to embrace new technologies like 5G, FTTP and edge infrastructure, supporting innovation and providing better outcomes for UK businesses and their communities.
Flexibility is king
Innovation breeds opportunity. But we know that for many, it's not always that simple – and as the unpredictability of the last few years has shown, flexibility has become a byword in the channel. For the UK to truly embrace the innovation on offer, wholesale service providers have a duty to develop products that allow partners to scale and flex to a timeline that suits their specific needs. After all, CSPs each have their own unique commercial goals.
That's why we developed UltimateFlex. Enabling partners to upgrade, downgrade or cancel their contracts at any time. It's an offering that allows them to plan for 2025 – and beyond. And they have the certainty of knowing that they can adapt to a changing market.
Flexible services and price assurances will be vital to supporting CSPs' objectives. With these continuous waves of change ahead, connectivity players will need to upgrade, enhance and re-architect their core networks. And those that resell will be doing the same for their customers. It's important then that CSPs have the confidence in their service suppliers to back up their solutions with expertise and a partnership approach – so they can grow together.
Staying on track
The next few years will be transformational and there's a lot to get excited about. Concepts like the metaverse are now mainstream, with potential to influence the way we work as well as play. The promise of technology like autonomous cars and IoT will move increasingly from the confines of the lab to the real world. And smarter cities will create safer and more sustainable urban spaces for us all.
CSPs will help contribute to such progress. The growth of 5G and FTTP coverage will continue to open up more solutions for end customers. Full fixed-mobile convergence solutions will offer seamless connectivity between types. And low latency, high-speed connections will unlock new opportunities for businesses.
Changing landscape
But we must be aware, too, that the channel landscape is changing. Organisations need to move massive volumes of data efficiently and cost-effectively. While the Golden Triennium is a useful target to rally around, we should not take our eyes off the even greater opportunities further down the line. Opportunities that will require both significant investment and strong partnerships.
As we look ahead at the years to come, it's clear to us that the biggest opportunities for the connectivity channel depend on capitalising on all our individual strengths. And venture beyond conventional boundaries that may have been holding us back. Many of our partners are already finding ways to work with each other, rather than against, to augment their business offering, and are leveraging wider ecosystems to expand their impact on their end customers' success. If we can all combine that strategic focus with flexibility we can continue to add value for customers, enable innovation and realise the game-changing potential connectivity has for the UK.
It takes Vision to be a leader
Comms Vision is the leading annual leadership forum for CEO, MD and CTO delegates making up the major league of the UK reseller community. Places are limited and by invitation: If you would like to join us this year, please register your interest to attend at www.commsvision.com