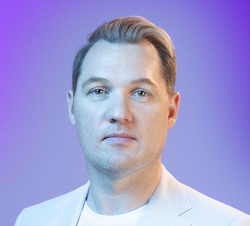 The stakes may have never been higher as we approach the Golden Triennium – the three year period of challenge and opportunity in the run up to the 2025 PSTN shutdown. And according to Onecom Partners (Platinum sponsor) Managing Director Adam Cathcart, to overcome hurdles, maximise opportunities and accelerate growth a fresh perspective on channel partnerships is key to success.
The rapid pace of industry change, technological advancements and evolving customer expectations are driving the need for partner ecosystems rather than one dimensional partner relationships, according to Cathcart. He said the experience of channel partnerships is often mixed, prompting Onecom to rethink conventional approaches and launch Onecom Partners last month, which Cathcart says redefines how relationships are structured, including shared strategic objectives.
Onecom Partners unveiled its Partnering for Success blueprint at Vodafone's HQ in Newbury, where Onecom Group CEO Martin Flick and Cathcart outlined to more than 120 resellers (existing and prospective partners) how combining the two organisations will empower channel businesses to succeed and grow, following the former 9 Group business's acquisition by Onecom Group.
The event focused on the combination of Onecom's access to products and services from Tier 1 networks and carriers with the suite of value-added services offered by Onecom Partners. "As part of Onecom Group, Onecom Partners is now able to leverage Onecom's relationships with suppliers and its scale as a £165 million business to bring partners attractive propositions that they can pass on to their customers," said Cathcart.
These efforts include competitive rates and an expanded choice of products and services from multiple networks and carriers. "We are now a true aggregator of services able to offer our partners choice," added Cathcart. "When ordering, partners can pick the best option according to the needs driving their individual customer. For example, for connectivity that may be resiliency, bandwidth or price. We're already seeing the value that additional choice brings to partners."
Interconnected partnerships
It is a fact that many strategic partnerships fall short of the mark, but Cathcart reiterated that Onecom Partners will be known as much for the success of its interconnected partner ecosystem as its portfolio proposition and differentiation factors. The proof is in the pudding as channel resellers have responded well to the launch: Onecom Partners' base of circa 450 partners is fast expanding and, notably, in Q3 2022 it added three times as many new partners as the whole of Q1 and Q2.
Cathcart says partners are attracted by a core portfolio comprising voice services, connectivity, mobile and value-added services. An important aspect of this is Vodafone connectivity, previously not available from the 9 Group business but now comprising 90 per cent of broadband orders.
Onecom Partners is now able to leverage Onecom's relationships with suppliers and its scale as a £165 million business
Working in partnership to offer strategy and business growth capabilities goes a long way to solving many issues faced by resellers, and, of course, strong support will help to maximise opportunities such as the ISDN switch-off in 2025. "We are working closely with our partners to transition the services they have with traditional lines over to hosted or SIP services, ensuring we are supporting and updating them as we remain engaged with Openreach about the planned stop-sell points and closure of exchanges," explained Cathcart. "We're making sure that our partners stay informed and educated on what this means for them and their customers."
Smooth transition
Onecom Partners also offers guidance as to how partners can help customers focus their digital transformation journey. For example, ahead of the 2025 switch-off's impact on ADSL and FTTC services the business is collaborating with partners to drive the transition to SoGEA and FTTP services, again through strong relationships with Vodafone and BT. "We are helping partners to ensure the transition is commercially strong and that they can offer customers the choice of provider that sits best with their customers," said Cathcart. "Through our portal, partners can enter a postcode and see multiple options across leading Tier 1 carriers.
"This is similar with IP voice services, where along with our existing IP offering and as a BT Wholesale Elite Partner we have recently introduced BT Wholesale's WHC hosted and SIP services. Importantly, Onecom Partners' status as a Super Reseller means our own partners can transact and manage their customers directly through BT's portals."
We are now a true aggregator of services able to offer our partners choice
Furthermore, Onecom's heritage in mobile and its close relationships with the UK networks means partners can choose to buy multiple networks on a wholesale model at a discounted rate while owning the customer contract, billing and support relationship, backed up by Onecom Partners' support if required. Onecom Partners also offers a Vodafone Red Bill solution, where partners are able to sign up under a Vodafone sub-agent agreement to provide mobile tariffs billed by the network with commissions ranging from 56 per cent to 68 per cent based on ARPU. "A large proportion of this is provided up-front to support partners in providing hardware options for customers," said Cathcart.
He noted that many partnerships look great on paper but may not deliver in practice, with poor choice, a lack of value added services and no on-hand expertise among the road blocks – barriers to growth which Onecom Partners has removed. "A key differentiator is our suite of value-added services that complements the core range of products and services, providing a one-stop support shop for partners," said Cathcart. "An example of this is our white-labelled back-office support service (the Virtual Office team) who can answer the phone on behalf of the partner, provision orders and support with new customer installations.
Additionally, Onecom Partners' bureau billing service supports partners with a white labelled billing solution with the option of a Direct Debit facility. The company also provides a concierge marketing service with bespoke marketing support. "Onecom Partners is on hand to help partners support their end customers by leveraging the expertise and knowledge of our teams," said Cathcart. "We also provide choice to empower partner revenue growth and increased margins. That's the true meaning of Partnering for Success."
It takes Vision to be a leader
Comms Vision is the leading annual leadership forum for CEO, MD and CTO delegates making up the major league of the UK reseller community. Places are limited and by invitation: If you would like to join us this year, please register your interest to attend at www.commsvision.com