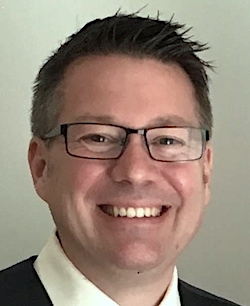 With  approximately three million B2B ISDN and PSTN lines available to migrate by 2025, it has become a matter of some urgency for channel partners to seize the opportunity to move their customers towards a unified portfolio, drive value and offer more flexibility and agility.
In his VisionTalk, Steve Blackshaw, Head of All IP for BT Wholesale, conducted a granular exploration of the all IP landscape and provided practical guidance on how to build and deploy an all IP migration strategy with confidence.
Blackshaw's task is to move BT's enterprise customers, including wholesale, to an all IP portfolio. The challenge follows similar projects during a 15 year period working for various telcos globally, helping them move to all-IP networks. "This is because I used to work for a vendor, Alcatel Lucent, and every time it sold a big network into a telco the incumbent would ask how to move the traffic, and migrate all customers from a legacy contract and legacy network to a new contract and all-IP portfolio."
Blackshaw's experience taught him that there is much commonality between IP transformation programmes. But he never thought such a thing could be replicated in the UK. "I didn't think the regulator was serious about closing legacy networks, and the first thing you need when closing legacy networks in any country is the regulator backing you," he said. "Incumbents are hard to move."
Nor is that all: Migrations are a huge challenge by their very nature. "If you've got 1,000 customers and they have ten circuits each, you've only got 660 working days until the WLR network turns off - and it will turn off in 2025," added Blackshaw. "That's 15 circuits a day. Is your company geared up in terms of the sales team and portfolio to sell these circuits to an existing installed base?" 
Currently, Openreach has 120 exchanges in stop sell. By December 2023 stop sell goes to every exchange - 5,500 of them - and this is being driven primarily by competition in the UK market. "We now need to move to a full fibre network across our providers, including Openreach, and it has changed the unit economics," stated Blackshaw. "They have to compete now."
It's about more than the copper legacy network. It's other networks too, noted Blackshaw. "Openreach has announced a series of networks to close down, including Wholesale Extension Services (WES) and Wholesale End-to-End Services (WEES), leased lines and megastream," he added. "3G is switching off before the end of 2022, and EFM is going on August 31st 2023. It's also happening because the equipment is ageing and there are no spares. Openreach is very serious about closing these networks."
To succeed in this environment, the trick is to build your portfolio, advised Blackshaw. "Make sure your portfolio teams are taking advantage now and mapping migrations, then arming sales people with the materials to have conversations with customers and move from one circuit type to another," he said. 
"This is where you can start to upsell. For some CPs the commercial offering may not be as attractive in IP as it is in legacy, but start-ups are absolutely intent on capturing that base. Leaving this to the last year is a commercial choice, but be aware that other telcos and CPs might be going into your base and waking them up with this story."
Furthermore, CPs may not have a set of solutions to cover all end user use cases, and plugging the holes is already a top priority. "You can't leave customers high and dry, so map out the use cases, partner and build solutions into your portfolio," urged Blackshaw. "Understand your customers' business, physically, the logical data flows, the CPE at each end, and more importantly their use case of the network. That helps you on your sales journey. It also helps you to upsell a set of services over the top. In sales engagement, engage early and with everybody - you'll sell more and you'll get people brought in faster. 
"Once you have made sense of your customers, undertake a replacement analysis and a migration journey. Build it onto your commercial plans and sales targets. If you don't, it is tempting for sales people to carry on selling legacy. So incentivise and reward appropriately. If you continue to sell legacy this year, in 2022 and 2023, you're building a challenge for yourself in 2024 and 2025. Don't put your head in the sand."