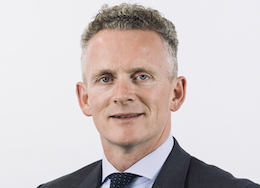 The future look of the market is easier to define than ever. Challenges and opportunities are clear to see, and for once what lies ahead is for the most part predictable – and disruptive. 
And in today's ever-competitive market, raising the bar and deploying targeted strategies for growth will prevent business leaders from being led astray by conventional thinking, according to Gamma CEO Andrew Taylor. 
In his Comms Vision interview, Taylor spotlighted the criticality of coherent value propositions that provide a competitive advantage for all businesses, including smaller firms, and explained the rationale underpinning his approach. 
"Our focus is also on M&A in the UK," he stated. "We've made three acquisitions around technology, product and capability. That's enabled us to deliver four of the five products we've launched recently. One acquisition was Mission Labs, a small company in Manchester building the PhoneLine+ product which we are integrating with SOGEA, giving partners the capability to deal with the voice switch off in 2025. Exactive gave us a feature rich Microsoft Teams Direct Routing capability as well as professional services expertise. And Telsis gave us a CCaaS proposition to develop." 
These acquisitions show that Gamma can no longer be seen as a straightforward aggregator. "A big focus for us is software and applications that drive UC, collaboration, video, CCaaS etc," added Taylor. "We see much demand for Teams coming from large SME, enterprise and the public sector. 
"But with opportunity comes risk. One of the structural changes is Microsoft - it's always there. The IT sector has years of experience partnering with Microsoft and we need to think about this deeply. We saw demand coming. Now we co-exist with a company that has won the desktop. The market is converging with IT resellers moving onto our space - and Microsoft is driving that. Everything you do at an applications level needs to be integrated." 
Taylor note that there is very little demand coming from the bottom up. Small businesses have different demands and rely on a channel partner, which is also a factor behind Gamma's product development. "Our strategy is to bring the cloud contact centre solution to the masses, a communication solution for small businesses that is fully integrated with Horizon, designed to solve problems they don't even know they have," explained Taylor.
He believes that more disruptive elements will be introduced in the future driven by digitalisation, collaboration and UC. "The pandemic has accelerated that," added Taylor. "And consider the whole connectivity piece, not just fixed access, but also 5G which is a disruptive element that enables new solutions. But these substitutional developments can cannibalise margins. That's a factor that everyone needs to consider."
The UK was first to deregulate and according to Taylor there is no other market in Europe like it. "The channel disrupted the market," he stated. "UK cloud penetration is about 25 per cent, much higher in the 100 employee and below space and even higher in the sub-50 segment. This is the domain of the channel.
"The market education and shift to cloud started much earlier in the UK. The channel has driven that disruption and stolen a march on the incumbent. Awareness is high, the intent is there and the pandemic has helped in terms of reinforcing and accelerating these trends. 
"We compete and sometimes bump into each other as a channel, but the share of what we do is quite small so there is a massive market we can continue to disrupt. BT is getting out of the voice market in 2025. What an opportunity, there's millions of customers out there."