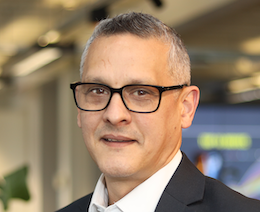 There is no shortage of disruption and opportunity in the connectivity space, and the pandemic has changed much about how connectivity is consumed by organisations. According to Nick Gunga, Managing Director for Fibre & Wholesale Services at TalkTalk Wholesale Services, it's time to pick up on action points that will enable resellers to draw on full fibre momentum, the launch of 10Gb, focus on growth and deliver a more connected customer experience.
Gunga has worked telecoms for 27 years, 17 of them with Charles Dunstone, Executive Chairman at TalkTalk Group. "My career has gone full circle," stated Gunga. "I started in the cable industry, and the irony is that we are back in the world of following the dig with Openreach, CityFibre and the altnets. 
"It's an incredible time and opportunity to help partners pivot from copper to full fibre. As TalkTalk Wholesale Services, we are going to keep our challenger mentality and help partners on the journey. We absolutely challenge on our partners' behalf."
Ever changing landscapes keep the industry moving and in terms of innovation, for Gunga it's about the core connectivity and the layers of the platform that sit above that, such as data and insight. "This is a must as we move forward," he added. "Data as a service is something we can provide.
"Driving wholesale services is about being easy to do business with and we have massively invested in our network and services. That investment continues, and as we look ahead we will deliver the full suite of products that channel partners need to make the transition to full fibre. 
"I'm astounded by the strength and power of the relationships we have and that's something we want to continue. And having a genuine alternative to Openreach is exciting."