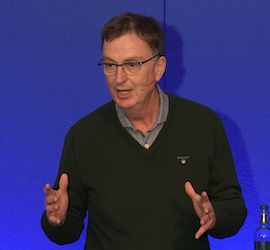 Against the backdrop of unprecedented industry change you must ask yourself a cardinal question: Where do you want your business to be in Digital Britain, and how will you get there?
In his session, Zen Internet CEO Paul Stobart – who was instrumental in scaling Sage's revenues from £120 million to £1.3 billion – addressed the key leadership questions delegates must ask of themselves in an era of perpetual change – and top of the agenda is a people first strategy and culture.
Stobart has a long held and deep interest in the nuances of leadership following a moment of self realisation that occurred during a leadership programme some years ago. "I realised I was rubbish at leadership," he stated. "I thought I was good, but in truth I was doing it all wrong." 
He'd discovered that true leaders deftly switch between two modes of leadership – Manager mode and Leader mode, both of which, when leveraged appropriately, can have a profound impact on individuals and companies.
Manager mode is about control. It's a good policy in a crisis but if relentless can be demotivating and negatively impact how a business performs.
The other aspect is Leader mode, where responsibilities are passed to others who are thus empowered. "That starts from me choosing to inspire people to do things for themselves," noted Stobart. 
True leaders also listen with intent and presence as any level of feedback may spark a great idea. "Listen to colleagues, be attuned to the feel of the business, the market and customers," added Stobart, who also put forward arguments in favour of staff appreciation.
"A simple thank you for doing a good job and being who you are can be a magic moment of opportunity that inspires people – but all too often these moments are lost," added Stobart. 
"And ask questions. The best questions are incisive and designed to overturn limiting assumptions that exist in the heads of staff.
"It is important to encourage people to change deep set beliefs that may limit their performance. Ask what they would do differently if they were to achieve more than they think is possible. Their initial answers may be banal, but persist with questions, delve deeper, and the gem of an idea may be unearthed." 
Thus, staff are accepted by Stobart as having untapped potential, that through acts of leadership that inspire also get people to more readily think for themselves.
"Great leaders balance Leader and Manage modes, and switch between them instinctively," said Stobart. "Leadership matters, so does appreciation." 
Stobart intends to educate Zen people on the power and intricacies of leadership and instil an understanding of leadership at a granular level. 
"We talk about technology and Digital Britain, but it's people who are going to deliver it," added Stobart. "So for me, it's people first. If they are engaged and inspired the customer feels a different type of experience. It's about doing the basics well."
Zen founder and Chairman Richard Tang takes a ferocious pride in happy staff, noted Stobart. For Zen, the ultimate achievement is measured not in finance nor customer numbers, but the delivery of happiness to people, customers and suppliers.
"We do this through leadership development, and we are rolling out a programme to 550 Zen staff, to engage as many people as deeply as possible in the business - through workshops, close engagement and asking loads of questions to get people fired up and enthused."