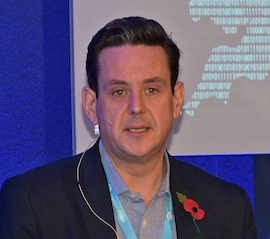 More than most countries in Europe, the UK has maintained its archaic comms infrastructure. However, no more is our copper legacy resistant to change, and the channel ignores the roll out of modernising full fibre at its peril, warned Guy Miller, Director of Fibre For Everyone at TalkTalk. 
The drive towards Digital Britain is disrupting every corner of the comms sector and the pace of change is remarkable for its rapid speed and transformation. What is also remarkable is fibre's capacity to be the 'the next big thing', emphasised Miller, albeit a slow burn compared to other fast rising technologies. Until now.
The transition to Digital Britain is not just about the likes of cloud, AI and new infrastructure deployment, it's about understanding the practicalities that drive digital transformation within UK businesses. To win, channel partners must embrace disruption, grasp opportunities, gain confidence and elevate industry performance, believes Miller. And to that end, he shared insights into TalkTalk's own full fibre work in York.
"We've put our money where our mouth is and we are doing it for ourselves, initially working with CityFibre and Sky before creating altnet FibreNation," said Miller.
FibreNation was launched by TalkTalk in November 2018 as a wholesale FTTP operator led by CEO Neil McArthur. It has tested and trialled full fibre in York which is now hailed by TalkTalk as one of Britain's first true Gigabit cities.
TalkTalk knew the move was the right course of action. Less certain was whether there would be an appetite for full fibre from consumers. Thus, the roll out was very much a learning curve.
What TalkTalk learned from the experience can be broken down into four areas. First, education. "This was needed to clear up misconceptions, but educating the market proved a challenge," stated Miller. "So we gave customers 500 megabytes for the price of a copper line to prove to them the superiority of the product."
The second lesson learned was that causing disruption was both a blessing and a curse. Disruption to road traffic during trenching was an annoyance to locals caught in jams, as you'd expect, but the blessing was that TalkTalk got noticed. In these parts, the company experienced four to five times the input volumes compared to areas where ducts and poles were used. "Being first in the area and making yourself known is critical," said Miller.
Just as important is raising awareness via word of mouth and tactical engagement with the locals, far better than relying on PR and leaflets. Therein lies TalkTalk's third big lesson. "It's key to avoid being perceived as just another telco so we worked with the local community, offering supportive sponsorships for example," explained Miller. "Consumers then more readily tried out the service, and loved it, with uptake spurred by word of mouth communication, driving up to 50% penetration in early build areas."
Fourthly, TalkTalk decided to go all in with fibre and not sell copper products at all. "Consequently, our NPS in York is in the 40s and we are experiencing less than 4% churn," noted Miller.
Having mastered the art of promoting full fibre adoption in York, TalkTalk is translating its experience to create an all encompassing professional practice for the channel. 
"We will work with other access providers and become the 'enabler'," explained Miller. "We are not going to create a world of pain for the channel. We'll work with providers to bring the same set of standards, APIs, billing etc, and be transparent, meaning that partners can choose their preferred access provider."
Miller further crystallised these imperatives and the reasons why channel partners must rethink connectivity now, as no existing business model is immune to change and the impact of Digital Britain on how we work is without question. 
"Disruption brings change and uncertainty, but the channel must be ready for this transformation to stay relevant and ahead of the curve," he stated. "Yes, a partner may lose 10% to 20% of their Ethernet base, but they can smash their FTTC base with FTTP. 
"This is a disruptive and exciting time in the connectivity space and it's not yet clear who is going to win the build wars."
But what is certain is that it is time for channel partners to form their full fibre strategy now, advised Miller. "Disrupters usually win, and those who work with disrupters also win," he added.
That's not all: People are starting to more acutely realise the looming demise of WLR3 and copper, and as these services reach the cliff edge a whole raft of new products is required, observed Miller. 
"Everything must fundamentally change in seven years," added Miller. "This is a challenge for the comms channel which is accustomed to acquiring fully packaged and polished products from suppliers. That's not yet the case with full fibre, but this is the biggest land grab the comms industry has ever seen and whoever sells first to the customer will be in there for years. Act now - this is a land grab opportunity - first in will win."
Miller also noted that TalkTalk is planning to launch an OTT IP voice service that is technology and CP agnostic, along with Ethernet products, and introduce a set of technological, operational and commercial criteria - standards that will make life easier for partners – along with all important APIs.
He also noted that it is critical for the Government and regulator to understand that infrastructure build is one thing, driving adoption is another. There has to be a market opportunity for the channel. "It is critical for the Government and regulator to support investment, how else can we move to a digital economy?" he asked.
"We have seen years of little intervention from Ofcom and Government. We have spent much time dwelling on the lack of performance from Openreach – and after years of lamenting it would be illogical for the channel not to take the opportunity in front of us."