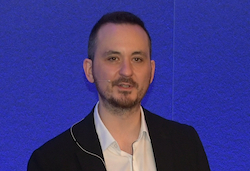 AI will liberate and drive organisations forward in Digital Britain, but first we must define its role and take the right action, argued technology evangelist and author Theo Priestley in his Comms Vision TED Talk (November 6-8, Gleneagles). 
As an anti-futurist Priestley re-examined how the future will look through a hypercritical lens, through which he sees automation, AI and algorithms challenge humans to target more complex tasks.
As we know AI is already being used to speed up the analysis of data. Examples cited by Priestley include lawyers using the technology to quickly seek legal precedents hidden within huge numbers of past cases. He also noted that some hedge funds are run by algorithms, and pointed to instances where AI and algorithms are writing for themselves.  
"AI drives a different business model, automating marketplaces and work environments where front, middle and back office will become a thing of the past," he stated. "But the biggest challenge is finding the resource to analyse stored data. The search for resources to make sense of data is a defining trend."
All agree that we are in a fast moving market but in taking a different tack Priestley dispelled myths around the readiness and capability of organisations to easily leverage AI, Machine Learning and the fruits of stored data, noting that training people to effectively work with algorithms and machines could take up to two years to get them and their outputs fit for purpose. 
Given that the value of data tumbles quickly over even short time, it is imperative to move quickly in the Big Data world, he said.
"Organisations with the power to use their data rather than store it in silos will become data-driven, which is essential to digital transformation journeys that rely on the free flow of information, leading to a networked, collaborative and fluid business.
"Huge growth in remote working and the requirement for flexibility is key to achieving better outcomes and goals.
"To build Digital Britain we need a connected infrastructure that allows data to flow without barriers. AI, data, connectivity and culture are all key points to consider."