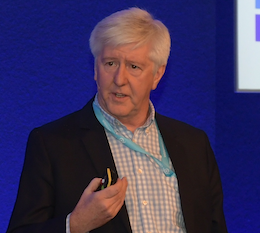 Look into every corner of the comms industry and we see a new dawn. No wonder customers are crying out for guidance as legacy technology continues to be swept aside. Against this backdrop, said BT Enterprise Unit CEO Gerry McQuade in his Comms Vision TED Talk, we must explore the future of technology integration and how the convergence of applications, services and networks will evolve during a complex period of digitalisation. 
For now, the industry is rooted in change, disruption and to some extent uncertainty, so radical action is required by all involved, urged McQuade.
"What we are going through as an industry, and as businesses, is significant," he stated. "The disruption and digitisation happening in every business is driving change for our customers, a shift they don't understand – and 5G will alter everything. It's not going to be about 5G on its own. It's part of an ecosystem and will transform everything about how businesses operate."
For the next two to three years we can expect a hybrid position, observed McQuade, then we will see the full power of 5G. "However, don't be fooled into thinking 5G is not important today," he added. "We are already live, and we are seeing significant change. 5G is a completely different model, designed for billions of devices, which changes the nature of how a network is run."
A number of elements must be considered to make 5G come to life, explained McQuade. Chief among these is user scenarios. "Just over a year ago we put a live network in Canary Wharf and invited almost 100 businesses to talk about 5G," he said. "What stunned us was that almost all had ideas about what 5G could do for them. Their use cases prompted us to think differently about how we should work with businesses. We changed the model of our innovation and R&D around 5G, knowing what it means to customers wanting to create self-designed use cases." 
BT's advances in rolling out 5G include a live broadcast with the BBC, and two versions of live ultrasound from an ambulance. BT has 20 cities are already covered by 5G, and by the end of the year another 20 will be 5G'd. 
"We need to think about where 5G goes next," stated McQuade. "It's easy to think about the technology as extra speed on a mobile, but most of the customers we spoke to talked about how they could use 5G in a saturated way for wireless offices. 
"That said, it's never going to be just about 5G. We will need a lot more computing power at the edge of the network. It's going to be WiFi 6 and Ethernet, with software wrapping it all together, driven by a capability to look across the networks, including in the customer environment, from small to large businesses. 
"In this model where multiple devices and multiple networks need to be dealt with in real time, managed services becomes an important factor."
Two, three or four years out there will be many other new capabilities. "To manage, secure and make these available easily to customers means that we need to do things differently," added McQuade.
"At every level we as businesses need to think about how we present ourselves, and rethink the nature of what we are presenting to customers. It's less about products as individual silos, and more about how you converge products and add value to customers. It's not just about how we go to market, it's about how you do business, the organisational model and how we run our networks." 
How customers consume connectivity in the coming years will also change. "Over the next two to three years we are looking at a completely different way to manage, control and secure the network," commented McQuade. "We are rethinking SD WAN, Ethernet and broadband services to supercharge them in the core network environment. 
"We are building towards our mobile, fixed and WiFi networks becoming completely seamless, reconsidering where we target our customer usage so we can move them between whatever node we want within those network environments. It's seamless, it's consistent, secure and agile. That creates change for our customers.
"When talking to business customers I see fear. They really do not understand the journey that they are going on. So professional services is growing at 400% per annum because people are struggling with this move towards more fragmentation and more digitalisation."
That digital skills are lacking in the SME market is not news, but the deficit will be felt far more acutely in the time to come. Already, the CBI estimates an £86 billion productivity gap between what could be delivered against actual figures, due to a dearth of digital skills to utilise existing tech capabilities that enable organisations to trade better. "We need to take businesses on that journey, support them and make those converged products become a reality," stated McQuade.
"We have a number of dynamics at play in the fixed and mobile market, and various dynamics around AI, robotics and machine learning - all are driving a different operating model that will happen within customers, the channel and the networks - and we all need to respond to it."
The key change factors identified by McQuade are 5G, SD WAN and managed services. "Ultimately, we need to think five years ahead, think about the environment we will be working in, the services we will be providing, and how much change we need to make collectively to be successful.
"We will be under threat from a number of external players, and while it is unlikely we will have our lunch stolen, we must change the paradigm of how we operate.
"Furthermore, the SME market is mostly driven by ease of doing business. They want to be led, taken by the hand on the journey of the sales process and the service environment. They are not that interested in what we do nor the technology. They want support, which is the role of the channel."