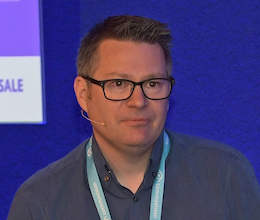 The spread of digitalisation has plunged conventional business models into strategic revamp mode, and for the channel, the network revolution has become a moment of truth, according to BT Wholesale's Head of Professional Services Steve Blackshaw, who showed further proof that long-term business planning needs to be considered and actioned right now.
In his Comms Vision TED Talk Blackshaw focused on the future of global and UK networks, and how the all-IP network will enable resellers to create new services in the digital economy. He detailed the factors driving the move to all-IP and new service economies, and explored the business opportunities these create for ICT resellers in Digital Britain.
The good news is that there are macro trends to suggest network development is settling down to a predictable equilibrium. For the ICT channel, 5G, like any new technology, can only be defined by the business case and proposition that makes it real and substantive, and Blackshaw provided clarity on this. 5G is coming to life, and there are clear signs that Ultra-Reliable Low Latency Communications (URLLC) will catalyse the IoT.
Like 5G, new digital economies that will arise from Big Data merit meticulous attention. Also, Blackshaw showed how global telco consolidation – those OTT players with no interest in delivering local service provision – will create a boom in demand for managed services at a regional level.
Networks are exploding, so it should come as no surprise that traditional methods of building them, based on a traffic laden core and associated metro networks, will need to be reconsidered, along with a rethink of the future business opportunities for ICT providers. Chief among the action points is latency.
"We are digitising everything in the workplace and at home," stated Blackshaw. "We are starting to contextualise data and workflows, and enable automation at a time when the rates of technological change and adoption are accelerating. Most of the data that has ever run over the Internet has happened in the past five years. We are in an era of ultra HD streaming, and developments are accelerating incredibly. In all this, latency matters." 
For example, take the cloud assisted car. This is the concept of a car talking to the vehicle behind using on board compute. In the future the compute is likely to be removed from the car and put into the cloud, among the benefits is that less can go wrong in the car. Crucially, when using a 4G network connected to a metro network the data transfer could take 90 milliseconds, which is not good enough when travelling at 80mph. On the other hand, deploying a 5G network would reduce the latency to around nine milliseconds, thus rendering the scenario far more realistic as a use case. 
"Low latency must be built into the architecture and the compute moved towards the edge of the network," added Blackshaw. "We've started to do that, move content distribution and caching, for example, closer to the edge."
For the channel, all innovation will eventually be judged by the use cases that deliver margin. Therefore a key industry challenge is to discern true dawns from false ones – a dilemma that has long hung over the business case for the IoT. But a bright outlook is now in view.
IoT solutions at their most basic level are constructed using inanimate monitoring devices. For example, BT is working with a utility company in the water sector that has 3,400 dumb devices, which is expensive to run, and power must be delivered to them. "However, the advent of low latency 5G with low power and high battery capabilities, that last up to ten years, means we can go much wider in terms of the coverage of devices," added Blackshaw."You don't have to physically maintain them, therefore the cost model comes down and these solutions become far more feasible." 
It is forecast that there will be 20 billion IP devices connected to the Internet and rising, because use cases such as the one cited by Blackshaw are far more feasible  – hence the explosion of device numbers and associated data. Nor is that all: The data must be moved in a secure way across the network, quickly and with a full complement of latency requirements. That data must be stored and analysed, which will give rise to new service industries and new digital economies. 
"Ultimately, there is money to be made in these new services," explained Blackshaw. "Customers will need your skills, not only in fulfilling the technology but the integration, support and the maintenance at the top of the stack. The managed services will include the integration of software – so embrace that change." 
It is a truly a time of network revolution, and direct action is being taken by the telco giants to secure as much of the future market for their OTT services as possible. 
The channel at large now faces a new dynamic, but the genesis for future success lies in ICT provider hands today if they act on Blackshaw's exposure that managed services is a realisable opportunity that must be readily welcomed by all regional partners.
Such pragmatism must be shown as big telcos around the world continue to converge. Why? Because their platforms and services are all about scale. 
"The larger your reach the more ubiquitous the service on a global scale, so telco companies are starting to acquire each other to gain as much geographic coverage as possible," commented Blackshaw. 
"But their services have to be localised and unique to individual customers. This is where the channel steps in because global players are not interested in localising services unless they can automate them. They want to provide a ubiquitous service globally, and have regional partners to make the change. 
"Our job is to give the highest performance for the lowest cost per bit. That way we make the most margin. But we also want to personalise services - therein lies the value add." 
The future flourishing of local ICT providers may be near limitless, if they explore value add beyond the scope of current imagination, all underpinned by the next generation network, believes Blackshaw,
"This dynamic means that we are heading towards a network architecture that has a central regional cloud, with metro core and CPU compute at the edge of the network to promote latency requirements. 
"Whole new digital economies will emerge off the top of that, including security, automated intelligence, operations support systems development and digital asset exchange - and the channel can charge for this – if you embrace it."