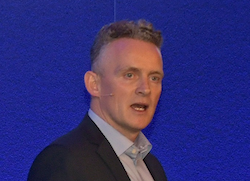 Digital transformation is fostering an epoch of mobility catalysed by 5G, according to Gamma CEO Andrew Taylor in his Comms Vision TED Talk. Meanwhile, UCaaS will drive new business models, differentiation and competitive advantage as we transition to an all-digital environment. 
That Gamma has secured a channel friendly MVNO deal with Three which includes 5G services is good news. The partnership is significant, and suggests that 5G must be a chief consideration among the channel's strategists. So much so that Taylor is on his way to defining a new 5G channel proposition that frees itself from the traditional baggage of doing business with a mobile operator, he claims. 
"We thought long and hard about what we've been doing in mobile during the past six years, and decided on a commercially flexible MVNO as a Service proposition," explained Taylor. "With 5G, data will explode. We don't know what it's going to look like but the traditional business model based on price and usage is not appropriate based on our view of the future."
Taylor reacted to what could be the catalyst of unprecedented industry change, namely 5G, in terms the channel understands, with a familiar string of commercial must-haves that put the partner first. 
"We wanted a commercial relationship with an MNO based on risk and reward," added Taylor. "We also wanted network equivalence to make sure that when the MNO launches new services we get them at the same time to service the channel, such as voice over WiFi and 5G which will be important in the coming years. We also wanted a partnership that would be focused on the channel with no conflict. This is not about the next 12 months, it's about the coming years, so we sought a first class citizenship relationship and stayed with Three. 
"It means true operational control through the Gamma portal, and flexibility as partners will decide the tariffs and what the price bundling looks like for customers. And as a MVNO we provide partners with full ownership of the customer. This way we will enable them to disrupt the market."
What Taylor's commitment to Three means to the channel is crystal clear. Also plain to see are the implications and opportunities contained in market analysis undertaken by Gamma. Whatever the topics of industry conversation that will be sparked by the research findings, it is likely that it will involve a running stream of market opportunities. 
"The UK market for voice, data and mobile has flatlined during the past two to three years, and it's going to flatline for the foreseeable future," observed Taylor. "There is disruption and substitution in the market, which is moving from traditional voice to IP voice, with a respective decline of around 10% and growth of 10% over the next five years. That's where the opportunity and the money is."
The UK is in a strong position, with the channel driving much growth in SIP and cloud adoption. Right now, the SIP market is 65% penetrated, with between one million and 1.4 million SIP trunks still to go. On cloud telephony the penetration levels are much lower at circa 25%, amounting to 4 to 4.5 million seats in the UK. "We are at the early growth stage around cloud," stated Taylor.
He expects approximately 4.5 million seats to go live over the coming years spread evenly across the micro, SME and enterprise sectors, with around 1.4 to 1.7 million seats in each of the segments. 
In the micro segment (one to ten users), the penetration is 18%, quite low with 1.2 million seats in the cloud and a potential market for 5.2 million. Business customers with between 10 and 50 employees have experienced almost 50% penetration. They are the subject of much competition. Low barriers to entry equate to new entrants, even though this is a relatively small market, its total size being around 2 million seats, with one million still to go. 
"If partners are feeling competition in this space that's the reason why," said Taylor. "The channel has done a brilliant job over recent years in driving cloud into that marketplace."
Turning to medium size customers, with 50 to 250 seats, penetration sits at around 18%, with 2.3 million seats in total and 400,000 already moved, so 1.9 million to go. The enterprise level has achieved 20% penetration, and offers 5.6 million seats to go after. 
"The key question to ask is: How are you going to make sure you get the biggest opportunity within each of those areas?" stated Taylor. "The channel needs to consider what it can do with products and services to stretch them and provide new capabilities as more competition comes into the UK market."
Where will be at the heart of the new entrepreneurialism that will sweep through the UK's comms sector? Enter UCaaS, a service that Taylor believes will enable the channel to differentiate and compete against the OTT and software players, comprising VoIP, basic bundling, hosted PBX replacement, collaboration, conferencing and omnichannel contact contact centre in the cloud, which Taylor rates as a 'massive opportunity' for the channel.
"Taking all of this and integrating it within an office environment while providing the network enablement is something the channel can do and competitors can't," emphasised Taylor. "Software players won't be able to do this and offer quality of service."
Gamma's magic ingredient in the mobile and UCaaS mix will prove influential in the market, but we must not ignore what will be a great strategic challenge, observed Gamma's Managing Director for Channel Daryl Pile in his TED Talk. "Since launch in March Gamma has witnessed 9% of hosted roll outs attach UCaaS, but take away in-house solutions and demos and we arrive at 5%, which in a £2 billion to £3 billion market is surprisingly low," stated Pile. "We need to drive towards 30% and get better collectively at selling UCaaS."
Pile hopes the channel will bring a rush of new business in the UCaaS space, displaying the same verve that helped it land swathes of the SIP market. "Think SIP: The channel smashed the market - we need to do that with UCaaS," he added. "But the circumstances are not the same. With the likes of Zoom and Microsoft Teams gaining traction – worlds are colliding."
Perhaps market competition is nowhere fiercer than in the UCaaS space. Here, the channel must contend with the likes of industry giants, but great entrepreneurs are true to their moment in time, and 5G could be their secret weapon.
"We have UCaaS on the desktop and handset, and it's been an app on the mobile for some time, but UCaaS needs to become far more media rich and 5G will enable that," noted Pile. "So we are working closely with Three.
"5G is going to displace some fixed lines, and resellers need to think about how close they are to one of the four operators. 
"Partners need to ask whether they will get what they want from their mobile data provider over the next five years."