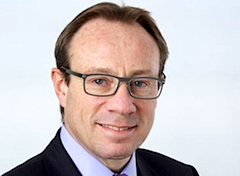 Worldpay top dog Philip Jansen (pictured) is lined up to become BT's big cheese, taking over from current CEO Gavin Patterson early next year.
Jansen will be appointed to the Board as an Executive Director on 1st January 2019 and following a handover period will take over from Patterson as Chief Executive on 1st February 2019.
Jansen joins from Worldpay, the global payments services group, where he will be stepping down as Co-Chief Executive at the end of the year. 
He has been Chief Executive of Worldpay since 2013, leading it through its flotation in 2015, until its combination with Vantiv in 2018 to create a global leader in eCommerce. 
Jansen was previously CEO and then Chairman of Brakes Group and has held a variety of senior roles in Sodexo Group, latterly as Chief Operating Officer and CEO, Europe, South Africa and India. 
Earlier in his career Jansen was COO of MyTravel and Managing Director of Telewest Communications PLC's Consumer Division. 
He began his career with Procter & Gamble in 1988 where he held a series of sales and marketing roles across the UK and Europe. 
Jan du Plessis, Chairman of BT Group, said: "Philip is a proven leader with outstanding experience in managing large complex businesses. 
"His most recent success at Worldpay, a technology-led business, means he is well suited to build on the solid foundations that are in place at BT."
Jansen added: "In a competitive market we will need to be absolutely focused on our customers' needs and pursue the right technology investments to help grow the business."