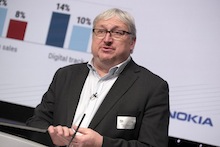 The ninth member of The Institute of Telecommunications Professionals' (ITP) board has been confirmed as Paul Adams, Marketing Director UK&I at Nokia Networks. Prior to his appointment Adams was associated with the industry body as an ITP Fellow. 
 
ITP CEO Crissi Williams commented: "Paul is a valuable addition to our board, bringing strategic operational and marketing insight."
 
Adams added: "I am passionate about the ITP's work and about bringing new talent into the industry."