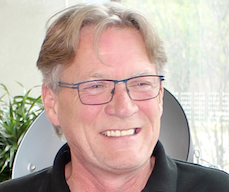 Marston's Telecoms MD Mike McMinn (pictured) is to retire following a ten year stint in the role. 
He is replaced by Operations Director Tony Ford who joined the business last year as part of a succession plan.
McMinn's IT and telecoms career spans over 30 years during which time he featured twice in the CIO Top 100 ranking.
He joined Marston's as Group IT Director in 1997 and his influence on the business helped to transform it from a £250m turnover operation in 1996 to £900m in 2018. 
McMinn played a founding role in creating Marston's Telecoms to meet the needs of the PLC and target potential growth in other sectors. 
"I am confident that Tony will maintain the vision, philosophy and momentum of the business and at the same time bring fresh ideas, skills and a great deal of experience to bear," stated McMinn.
Ford's 20 year tech experience encompasses specialisms in management, the Internet, Wi-Fi, WAN and LAN.
"Working with Mike is a career highlight and massive kn
owledge share for all of us," he stated. 
"We will continue Mike's legacy as we lead the charge for innovation in our specialist sectors.
"In recent months the team has grown substantially to drive our ambitious vision for the future."