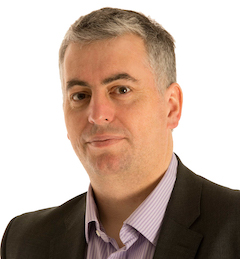 Commsworld's Non-Exec Steve Langmead (pictured) has taken over the CEO role from Ricky Nicol who now operates under the title Founder and Vice-Chairman. 
Nicol will remain on the Board of the Edinburgh-based company he set up in 1994.
 
Langmead has been a Director of Commsworld since 2018. His former roles include Senior Vice President of Atos in Scotland and Capita's Chief Executive for Scotland.
His appointment initiates an ambitious new expansion plan across the UK, stated the firm.
 
Langmead said: "Both Ricky and Commsworld are a huge success story and I look forward to continuing to work with Ricky. His entrepreneurial drive will still be at Commsworld in his new role."
 
Nicol added: "When I first started we were the new kids on the block and had to prove our worth against some formidable and much larger competitors. Together with my team we achieved this.
 
"It is no secret that, as well as working hard to establish a successful business, I have faced and won my own battle with ill health. Not only that, but last year – the year of Covid – I became a grandfather.
"The time is right for a new leader to drive Commsworld forward, and Steve is a business leader with a huge track record of success."