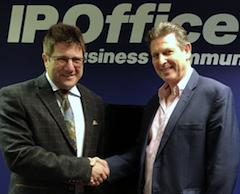 The hire of comms vet Martin Charlton by IP Office adds 20 years ICT sector experience and brings a sharper focus on long-term strategy. His appointment as Business Development Director will leverage experience gained while working at Cisco, Mitel, Avaya and  Ricoh.  Charlton also held board level roles and Director positions at Counterpath, SAS Global and Videocall.
IP Office Director Mark Collett said: "Martin has a passion for driving business and adding value. He brings leadership and entrepreneurial skills, along with experience in business UC and cybersecurity to help shape and grow our business."  
 
Charlton added: "Twenty years ago I brought an Avaya FIFA World Cup Technology road show to IP Office's doorstep at the start of its journey into telecoms. I now look forward to shaping the future and growing business organically and through acquisitions."
Pictured: Martin Charlton (left) and Mark Collett