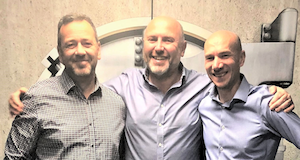 Scottish managed service and data network provider IFB has manoeuvred into expansion mode with the appointments of George Gordon as Chief Operations Officer and Andrew Gordon as Finance Manager.
George, who boasts over 20 years experience in the oil and gas industry, said: "Seeking a new challenge focusing more on innovation and technology, IFB is a great fit with its enthusiasm to expand." 
Andrew brings 24 years experience working in the industry and four years as a business owner. He has held senior financial management roles in the UK and overseas, including 15 years in the oil and gas connectivity business.
IFB CEO Graeme Gordon added: "Having George and Andrew join our senior management team is the next in a series of key steps in our growth plans. With their combined experience and expertise they'll play a key part, along with the rest of the team, in continuing to deliver and accelerate our ambitious growth plans."
Pictured (l-r): George Gordon, Graeme Gordon and Andrew Gordon.