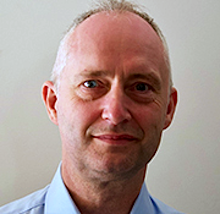 Experienced bean counter Tim Howard's (pictured) appointment as GCI Chief Financial Officer is a 'perfect fit' enthused CEO Adrian Thirkill.
Howard brings 30 years finance experience to the role with over half that time spent in leadership positions across multiple hi-tech industries.
 
Previous roles include spells at Barclays, BAE Systems and Deloitte, listed blue chip companies and PE-backed  SME and start-up organisations.
Thirkill said: "Tim has all the attributes to deliver strong leadership and transformational change at this exciting time for GCI. 
"Knowing Tim and the reputation he brings as a great strategic thinker and pragmatic problem solver, his financial background in the hi-tech sector is a perfect fit."