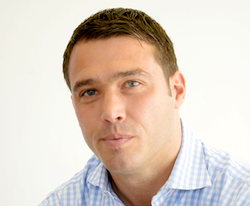 Former G3 Comms CEO James Arnold-Roberts has joined network aggregator FluidOne as Chief Revenue Officer (reporting to CEO  Russell Horton), a newly created board level role designed to boost plans to treble the size of the business over the coming five years.
He co-founded and led Genius Networks which merged with G3 Comms where he was CEO and steered the company to a successful MBO in 2019. 
Horton said: "James will be an integral part of the team to help achieve our new 2020 vision and five-year plan. We look forward to supporting him in shaping the sales and marketing strategy and to build on our existing talent to ensure we have a best of breed sales and marketing engine as we continue to grow. 
"We have a series of acquisitions in the pipeline that will complement our existing services, including IT services, UC and Advanced Security and James' role as CRO is key to the execution of our vision as we scale the business."
Arnold-Roberts added: "My extensive experience in connectivity and UC, leading teams to deliver consistent organic growth, coupled with an in-depth knowledge of private equity, all puts me in a great position to support Russell and the FluidOne board to deliver on their vision."