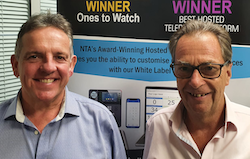 Comms sector stalwarts Kevin Burns and Cliff Chandler have joined NTA as the company seeks to revamp its sales and support operations and double down of partner relationships.
Burns' experience includes running and assisting manufacturers and resellers and will oversee all operational activities at NTA. 
Chandler also brings much industry experience with stints at Inter-Tel, Oaisys, Mitel and ASC under his belt. 
His remit at NTA is to develop the internal sales team and forge closer channel partnerships. 
NTA MD Paul White said: "Both come with vast experience in the industry, along with drive and leadership skills.
"We are due to release a number of new features over the coming weeks to increase the branded solution available to our partners, so we will utilise their expertise in bringing this to market."