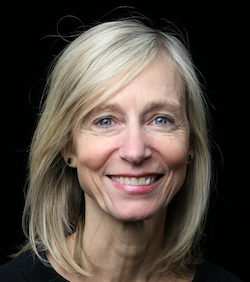 On the topic of cloud comms Amazon Web Services is ever more a prominent talking point. Here, Marta Whiteaker, Managing Director for AWS Marketplace EMEA, turns up the volume on why it's becoming the talk of the town.
Whiteaker's career kicked off in systems integration consulting working for a boutique SI in Europe on large telco billing projects. The attraction was more about an opportunity to travel than responding to the magnet of billing software. "But that launched me into the world of hi tech," commented Whiteaker. "I never looked back and have worked for some of the largest hi-tech companies since. This experience helped me to launch and build out the AWS Marketplace operation, initially in the US and then in Europe to develop the business internationally. Building AWS Marketplace from the bottom up has been the most challenging and most rewarding part of my career. Working in hi tech has given me the opportunity to immerse in fast-paced environments over the years, but none as exciting as what we are witnessing today with the transformation to the cloud."
Whiteaker manages the AWS Marketplace business across a broad GEO spectrum and as of June 2020 it reached more than 290,000 monthly active customers and has more than 1.5 million current subscriptions. Its channel is also growing substantially, allowing all partner types to serve commercial and public sector customers of any size. "Since 2014 AWS Marketplace has more than tripled the number of ISVs we partner with from 500 to over 1,600 and reached a total of more than 8,000 product listings," added Whiteaker. "We also have 300-plus CPs on AWS Marketplace and many data providers. We've expanded to 24 different regions, meaning that anywhere customers want to access AWS Marketplace they are able to find, buy and deploy the software they need."
Building AWS Marketplace from the bottom up has been the most challenging and rewarding part of my career
AWS Marketplace supports both the supply side and demand side of the business. It works across different customer segments to enable the procurement, deployment and management of software as customers move to AWS. On the supply side it supports software vendors in listing and selling their product portfolio through this channel to AWS customers. Whiteaker sees a significant opportunity to help global customers modernise their software supply chain with the support of channel partners.
"Customers, from start-ups to enterprises, face challenges in their software supply chain, such as the high costs of legacy software licensing and maintenance, drawn out procurement cycles that inhibit innovation, and a lack of visibility into organisational software usage," she commented.
"Channel partners are taking a strong role in transforming the market and modernising the software procurement process. They are taking a more active role in consulting and supporting the architecture of the cloud environment, suggesting and recommending software, purchasing on behalf of the client and managing the end-to-end cloud environment of the customer.
"Modernising the software portfolio is an inevitable part of business transformation. The AWS Marketplace vision is that it will not just be a software catalogue but an essential tool for enabling modernisation and business transformation. This is why we have made substantial investments to make it easy to provision, configure, and integrate third party software products across AWS services and govern these resources to meet internal policies and controls."
In 2016 new features and programmes were introduced to provide greater flexibility in how enterprise customers transact via AWS Marketplace, including working with channel partners. The following year it launched Seller Private Offers which enables both AWS customers and Consulting Partners to negotiate custom pricing and contract terms with ISVs, and develop ongoing relationships. In 2018 AWS Marketplace launched Consulting Partner Private Offers which enables Consulting Partners to resell software solutions directly to customers from AWS Marketplace.
In 2019 the company introduced Solution Providers Private Offers (SPPO), a programme targeting AWS Solution Providers by helping them to create Private Offers proactively and then extend them to all AWS customers under their management.
Whiteaker noted a number of other trends that are emerging in the cloud landscape, especially regarding cloud marketplaces. "First, we are seeing a decentralisation of procurement decision making within organisations," she added. "As customers disperse purchasing decisions to different cost centres throughout their organisation, ISVs and Consulting Partners, in conjunction with AWS Marketplace, need to shift the standard selling approaches to align with new business processes. The role of the Consulting Partner will continue to expand.
"We are also seeing customers prioritise quality over price. Organisations are no longer willing to make a long-term purchase commitment due to a temporary monetary incentive, but rather, they focus their large, long-term decisions on the fit of the product to the specific needs of their business. These changes are driving ISVs and Consulting Partners to invest more in the quality and differentiation of their products and offerings rather than a race to the bottom approach seen in prior markets."
There are three main factors that influence the evolution of AWS Marketplace, pointed out Whiteaker. "The first is business planning, by understanding the needs of our ISVs and Consulting Partners and their business model we can help them with GTM planning and offerings and introduce ISVs to the right set of Consulting Partners that can take their offering to the customer. The second is investing in automation so we can offer a full self-service experience that alleviates the operational burden and takes care of the billing and disbursements on their behalf. And the third is bringing the relevant software products to customers."
To help achieve its goals AWS Marketplace identified four key areas it sees as change drivers. The first is worldwide expansion to enable ISVs and Consulting Partners to reach more than 290,000 AWS Marketplace customers across the globe. Next, a focus on building automation features that provide a seamless self-serve experience to partners. Thirdly, the company is seeking to recruit right-fit partners across both the ISV and Consulting Partner categories. Fourthly, enhanced AWS integration allows ISVs and Consulting Partners to offer more simplified and seamless experiences to their customers. "Deeper understanding of customer needs, especially as these needs continue to change, enables our ISVs and Consulting Partners to build more useful and supportive services," added Whiteaker.
Lessons learnt...
Given my strong desire to live internationally, I would have started much sooner and worked much harder on learning additional languages. You cannot underestimate the power of communication and that only happens when people speak the same language. While I benefit from the growth of English language adoption, I also miss out on not being forced to speak the language of colleagues. I manage people across 20-plus countries, speaking many different languages and I am continually impressed by what they are able to deliver in this multi-cultural environment.
About AWS Marketplace...
AWS Marketplace is a curated digital catalogue for customers to find, buy and deploy third party software. It simplifies software discovery, licencing, procurement and management with thousands of software listings from more than 1,600 software sellers in categories such as security, networking, storage, business intelligence, databases, machine learning and media.