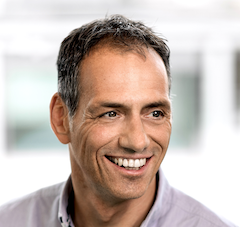 It is loud and clear that the rise of XaaS and the impact of Covid-19 as a catalyst for remote working have changed the business comms landscape forever, according to Dropbox Global Head of Channels Simon Aldous.
Dropbox's global channel chief is one of the industry's most experienced leaders, but he originally imagined himself as a secondary school sports teacher, so went to university to qualify with physics as his second subject – then decided that computing was the next big thing and after leaving university took his first job as a junior tech support engineer at a small reseller. "I quickly gained experience and moved to a few different resellers and distributors and finally into the vendor community with Microsoft, Polycom and Dropbox," explained Aldous. "When I joined Dropbox I was tasked with building a channel business from scratch. This was an exciting proposition, especially after 25 years of working at distributors, resellers and vendors."
Aldous's bravest career move was starting his own business with a group of friends. They secured funding, built the technology and started transacting all based on an idea scrawled on the back of a napkin. "We thought we could address a market niche and bring real value to a problem (excess and obsolete inventory) that we had all struggled with in previous roles," he added. "We took a punt and it changed my life. This experience of a hands-on entrepreneurial project was part of what made Dropbox and its offer of building a channel business so appealing. Moreover, it has given me insights into all elements of business and a complete understanding of the channel."
Dropbox enables teams to sync, organise content and collaborate in the cloud, making it accessible from anywhere. "There's an opportunity to make work easier for groups of individuals who historically may have encountered difficulties – whether that's mothers returning to work or people with disabilities," commented Aldous.
"We want to drive a product that doesn't care about what device or application you're using, and provide a platform that enables people to access anything they need from wherever they need it. Our partners play a crucial role in wrapping that technology around customers' requirements and integrating it with other tools."
According to Aldous, the shift to a cloud-first model has, and continues to have, big implications for the channel. "That change is still in progress," he commented. "Previously, resellers and SIs were quite product orientated, but it has become clear that partners need to better understand their customers and offer bespoke bundles. It is so much easier for customers to move suppliers in a SaaS dominated market. Instead of having to uproot their entire digital ecosystem, they can switch with a mere click of a button.
Customer service teams are the sales people nowadays. If you can service your customers in the way that they want to be serviced then satisfaction is higher, retention is solid and a sustainable business is a far more likely outcome."
In the context of this evolving market the role of a distributor is often overlooked from a supply chain perspective, believes Aldous. "It needs to be overhauled," he stated. "In today's market with XaaS becoming more and more prevalent, the distributor needs to reinvent itself to find where it can continue to operate and add true value. I still see many distributors operating in the same way they have for the last 20 years without recognising the shift that has occurred. The traditional channel hasn't taken the step forward to address this through the supply chain."
Covid-19 has accelerated the consumerisation of IT and changed its dynamic. It's never been more important to have a seamless experience when logging in remotely
In contrast, Dropbox has a policy of shifting focus to keep pace with the fast moving market and advance with agility. For example, when the company launched its partner programme four years ago its primary focus was to add as many partners as possible to build a steady run-rate of business. "This meant that our initial programme was lean and just focused on three tiers of partners," commented Aldous. "This strategy underpinned our first three years of operation as a channel business and has enabled us to develop a strong bedrock of partner business."
The Dropbox partner programme has proved its value in the last few years, making its channel GTM the fastest growing engine for business development. But the company has now redirected its focus and changed how partner success is measured, diverting away from the conventional seats under management approach and replacing it with a new measurement – teams under management.
"This model moves away from looking at raw sales numbers that can be skewed by one large single enterprise sales success, and instead incentivises partners to work with their customers and identify different teams that could benefit from collaboration and content tools," explained Aldous. "Originally, Dropbox spread virally among people looking for easy file sharing solutions, and this shift looks to do the same for teams that need to bring together a variety of different cloud-based tools and have one centralised place where they can work together.
"We're now transitioning from a breadth strategy to one based on depth. We are therefore focusing on developing our relationships with a smaller subset of partners within a selection of key verticals, including media and communications, construction and education. Dropbox can play a huge role in taking on the digital challenges facing these sectors, and we're working with partners to develop strong propositions for organisations and build stronger vertical and SMB partnerships."
Covid-19 has put this requirement into a sharper focus and thrown many businesses into a 'back-to-basics' mindset where the priority, from a technological perspective, is to ensure that everything is functioning smoothly and to maximise whatever tools and systems they already have in place. This is particularly the case for SMBs that often outsource their IT departments or don't necessarily have easy access to technical skills, believes Aldous.
"Covid-19 has both accelerated the consumerisation of IT and changed its dynamic," he stated. "It's never been more important for people to have a smooth and seamless experience when logging in remotely, yet not all businesses have found it easy to provide their workers with the tools and infrastructure they need to operate efficiently in a distributed environment. We aren't going to go back to work in the same models as before. Whether it's working from home more, going to the office in staggered shifts or even the imposition of distancing rules, all teams will be physically distanced to at least some extent and technology must play a key role in enabling them to work within this new environment.
"There is a further opportunity for the channel to prove its value by helping customers ensure that they're getting the most out of their current digital solutions, enabling them to streamline their business operations without the need for a complete digital overhaul or, in the case of SMBs, hiring an IT department."
Just a minute with Simon Aldous...
The biggest risk you have taken?
Starting my own business with three colleagues.
Name one thing you could not do without in your job:
A consistent broadband or 4G connection.
Best piece of advice you have been given?
Treat people as you would wish to be treated yourself. Over time this has become the foundation of how I work in my teams.
Who do you admire most in the channel:
Scott Dodds, a fantastic leader to work for, as I did at Microsoft, who has done an amazing job in his time at Ultima. He has transformed it into a market leading customer-first MSP, a tough ask in the current IT climate.
If you weren't in the ICT industry what would you be doing?
A secondary school sports teacher. It would be a great place to let my love of sports and competitive spirit shine!
Top tip for resellers:
The best way to build a business is to orientate it around target customers, rather than serving your own interests first. It's a shame that customer-centricity seems to be more of a marketing term rather than the basis upon which businesses are constructed.
How do you relax when not working?
Swim, bike, run: I exercise everyday and race triathlons when possible. Keeping active helps me keep my head clear and alert.