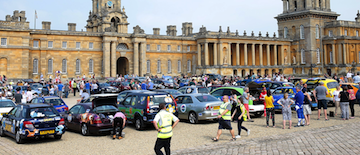 Charlbury-based charity SpecialEffect has received a £375k cash boost from money raised in the Twin Town Challenge 2018 (TTC18), an event founded by STL Communications MD Brendon Cross.
The event, staged in May, featured 100 cars costing less than £500, 400 people in fancy dress and 30 volunteers heading from Blenheim Palace to Witney's twin town of Le Touquet. 
Cross announced the total amount raised at Le Grand Bal, a movie themed finale held at Heythrop Park Resort on 7th September. 
Previous events were held in 2014 and 2016 and with the 2018 funds the overall amount raised is £800k.
Cross said: "While TTC18 was fantastic fun there is a serious reason for staging the event and I cannot thank the sponsors, the volunteers and participants enough for their generosity and unconditional support."
SpecialEffect will use the money to help more young people with disabilities to play computer games and communicate using eye gaze technology.
Dr Mick Donegan founder and CEO of SpecialEffect, added: "We are entirely dependent on donations to carry on our work, so events like this are our lifeblood. 
"The passion and generosity of the organisers and the Twin Town community will enable us to help more people with disabilities to play to the very best of their abilities by using technology ranging from modified joypads to eye-control."