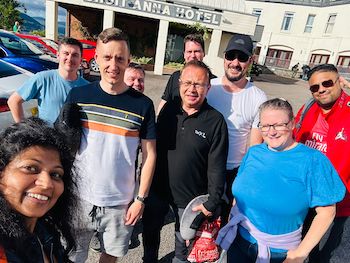 Hats off to Team TelXL for completing the National Three Peaks Challenge, so far raising over £1,500 for Kidney Research UK and Queen Elizabeth Hospital Birmingham.
The team of seven (comprising Aaron Fox, Craig Mellon, Marek Kubis, Matt Grove, Mohana Ramesh, Ravi Raju, and Bradley Pritchard with support crew James Evans and Philippa Boys) kicked off the 23 miles walk and 3,064 metre accent on June 24th by climbing Ben Nevis, followed by Scafell Pike and Mount Snowdon, traveling a total distance between the mountains of 462 miles.
CEO Aaron Fox enthused: "What an experience, and all in aid of charities close to all our hearts. Everyone on the team including our support crew did themselves proud. It wasn't easy, especially when we started off in torrential rain.
"TelXL will always encourage and support every member of staff in taking on personal challenges, whether as a team or individually – especially when it's for good causes. The commitment I saw during the 3-Peaks is inspiring. Everyone's journey was different but we all got something out of it."