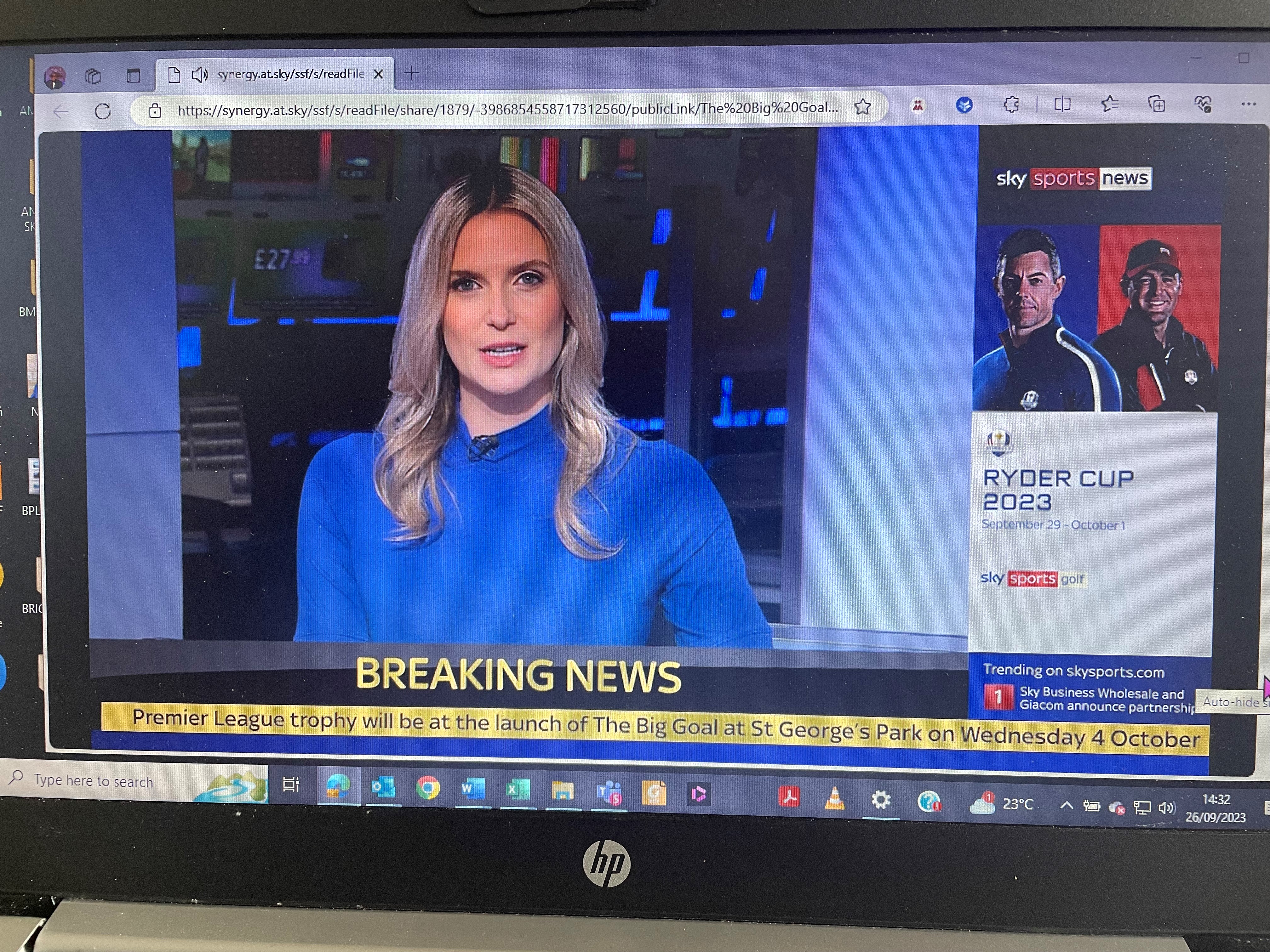 Sky Business Wholesale is the latest tech giant to sign up to The Big Goal, which will be officially launched at St George's Park – the home of England football – on October 4th.
Sky's channel business joins a growing list of industry companies that have committed to the initiative, centred around the Street Soccer Foundation which, via its national academies, changes lives through football by training, inspiring, and mentoring homeless young people and, in many cases, helping them achieve gainful employment.
"We are ecstatic to have Sky Business Wholesale supporting this outstanding industry initiative. Having them on board alongside many other companies is fantastic news and the influence and exposure they can provide is a great boost for the project," said Giacom CEO Tez O'Brien.
"As an example, Sky will be bringing the Premiership Trophy to the launch, which will provide tremendous photo opportunities. They've also teamed up with their colleagues at Sky Sports News to produce a news video which has elevated the project to a new level."
https://www.linkedin.com/posts/giacom_thebiggoal-industryunited-annoucement-activity-7112835253022412800-nNLB?utm_source=share&utm_medium=member_desktop
Giacom has put its entire marketing team behind the project, which aims to recruit 100 ICT businesses as founder members.
"I believe this is a wonderful initiative our amazing UK Tech Channel can unite together to support," continued O'Brien.
"There are 1600 holes in a regulation football net, so the overall aim of The Big Goal is to prevent 1600 young people from drifting into homelessness."
At the launch, attended by 70 plus industry leaders, Comms Dealer Editorial Director Nigel Sergent will quiz Tez O'Brien and Street Soccer CEO Keith Mabbutt about the aims and objectives of The Big Goal. They will explain how sponsoring companies can enter a five-a-side team and progress to a national finals event at St George's Park next summer.  
"This is just the fun and competitive element.  The key part is the entry fee which will support a Street Soccer Foundation Academy local to them - thereby helping 10 homeless young adults get their lives back on track," added O'Brien.
A Premier League winner will be a special guest at the launch event alongside Street Soccer Foundation graduates who will explain how they have turned their lives around after attending academy courses.
There are still a few places at the launch event. Industry leaders wishing to attend to find out more can register via this link www.giacom.com/events/the-big-goal
ICT business leaders who cannot attend, but are keen to enter a team and/or sponsor an academy should email Keith Mabbutt at kcm@streetsoccerfoundation.org.uk