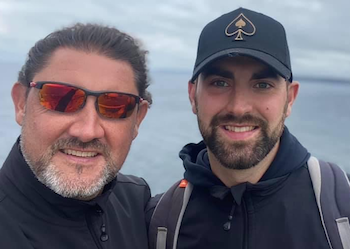 Pure Cloud Solutions CEO Darren Lake and MD Jamie Lake have set their sights on the Matterhorn summit and are in training to reach the 14,692ft peak in September in aid of the Help Us Help Others (HUHO) charity. 
The father and son pair have set a fundraising goal of £30,000.
Darren Lake set up HUHO five years ago to ensure that every penny of charitable donations made a positive impact on individuals' lives. 
He said: "I hope our efforts will support HUHO in raising a substantial amount of money that will enable the charity to change more people's lives."
Jamie added: "I see this as an opportunity to take it a step further than we have previously and aim to raise a significant amount of money that will help those most in need." 
Training for the event has been hampered by the national lockdown, preventing access to the mountains of Wales and forcing the team to hike the local paths in Derbyshire. 
Darren says the current focus is cardio having run 10k and hiked 100 more over the course of January so far.
He added: "I've personally always wanted to climb the Matterhorn but life always got in the way.
"I've now hit my early 50s and I know it's now or never, I know this won't be easy but then nothing worth doing ever is!"
Family friend Neil Hammerton will join the Pure Cloud duo on their trip to the alps. 
If you would like to donate please vist: https://www.justgiving.com/campaign/Matterhorn-Summit?invite=true