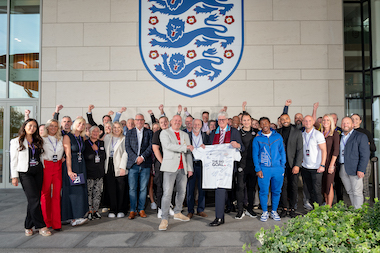 The Big Goal industry initiative to help young homeless people in the UK kicked off in style at St George's Park last month, getting under way with the best possible start.
ICT organisations from all over the country attended the launch at the home of England football where over 25 teams signed up to The Big Goal as founding members. This commitment will fund the creation of 25 new Street Soccer Foundation academies helping over 200 homeless and disadvantaged young people. It also means that 25 teams are signed up for The Big Goal football tournament which commences in spring 2024.
"The official launch of The Big Goal was just incredible," said Street Soccer Foundation founder and CEO Keith Mabbutt. "Speaking to a packed room at St George's Park, alongside the Premier League Trophy, was a privilege and I was overwhelmed by the support we received with many companies committing to The Big Goal."
Terry O'Brien, CEO of head sponsor Giacom, believes the launch was the start of 'the most unifying ESG project the ICT channel has ever seen'. "What a great launch day at a fantastic venue," he enthused. "The day really brought home to everyone attending what a massive difference we can make working together as a community.
"It's great that we're doing something big to help end youth homelessness together with Keith and The Street Soccer Foundation. Thanks to all the founding members who signed up on the day and agreed to motivate so many more in our amazing Industry to join the Big Goal initiative."
The Big Goal has arrived, and I know that together we'll make a big difference
The Premier League Trophy was provided courtesy of sponsor Sky Business Wholesale and Sky Sports News were there to record proceedings. Academy graduates spoke poignantly about how The Street Soccer Foundation academies have helped them find directions in their lives. Jonathan now works at Tottenham Hotspur FC, and Jodie is poised to set up her own painting and decorating business.
Launch host Comms Dealer Editorial Director Nigel Sergent said: "Over 300,000 people are homeless in the UK today. Action for Children says at least 120,000 of these are young people. That's a record... driven by the cost-of-living crisis. These figures are not just sad. They are an outrage in our so-called civilised society. We are proud to be part of an initiative to alleviate this massive problem."
Mabbutt added. "With the amount of founding companies on board for The Big Goal, we are already in place to help more than 200 young people through our academies in 2024, which is just amazing. What a start! What an industry. The Big Goal has arrived, and I know that together we'll make a big difference."
For those companies who couldn't make the official launch event, there's still time to become a Founding Member by signing up here: www.thebiggoal.co.uk.
Founder members go for Goal...
The Street Soccer Foundation's work is a vital lifeline for young homeless people, using football to boost self-belief and transform lives. It's heartening to see the channel working together as a force for good.
Matthew Riley, Chairman, Daisy Group
Rydal Group is passionate about playing its part. Together as one, we're stronger and can tackle homelessness and create a brighter future for UK communities.
Steffan Dancy, Managing Director, Rydal Group
Fifteen Group is proud to be part of this ground-breaking initiative to help local young homeless people get their lives back on track through the power of football.
Ian Walker, Director, Fifteen Group
We must fight homelessness in the UK, particularly amongst young adults. I am keen for InTEC's people to get involved and see how we can make a difference.
Simon Howitt, CEO, Intec Group
This truly is an exciting project and I'm keen to explore other ways to inspire our staff to make a difference.
Tony Wright, Head of Internal Sales, Daisy Corporate Services
Pictured above: The Big Goal founder members line up under England's Three Lions at St George's Park