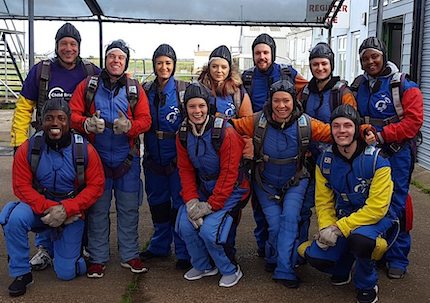 A team of 13 intrepid 9 Group employees plunged from the skies in aid of individually chosen charities during an adrenaline fuelled skydive adventure last month.
"For those who aren't thrill seeker the idea can seem daunting, but that didn't stop them," said Paul Buckle, Head of Customer Data at 9 Group.
Tyra Forbes, Senior Customer Service Advisor at 9 Retail, added: "The skydive was a great experience, the views were breathtaking seeing only blue skies.
"I tackled the clouds and glided down into landing, having the feeling of great achievement. Firstly, because I completed the jump and secondly because I'm still alive to tell the tale."
Tom Phyall, Credit Controller at 9 Group enthused: "I was nervous beforehand as I'm petrified of heights.
"When we got in the plane it became more real, but sitting on the edge of the plane with my legs underneath just felt terrifying. Then we fell and it was amazing! The view on top of the clouds and the speed we were going was insane."
Read more and view the head spinning video here:
https://9group.co.uk/adrenaline-for-9s-fundraisers/