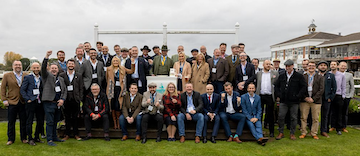 Unified Communications provider Wildix has been positioned as a Niche Vendor in the 2021 Gartner Magic Quadrant for UCaaS, Worldwide, the only European vendor to be included on the latest Magic Quadrant, which UK Senior Channel Manager Ian Rowan believes is in part due to its British partners and their customers.
Speaking at the company's inaugural UK partner day staged at Stratford Upon Avon Racecourse, Rowan said: "To be on that Magic Quadrant is a fantastic achievement that's been helped by you, our partners, because of the referrals and reviews you have sent to Gartner on our products and solutions. We are now officially a powerhouse when it comes to UCaaS, and I hope this will increase your sales figures going forward."
Running through the UK annual results, Rowan said 1,222 new customers were activated on Wildix in 2020 relating to 100 PBXs every month and that figure has risen to 1,400 customers and 150 PBXs a month in the first three quarters of 2021.
"When you look at all those PBXs it's an amazing number of users that partners activated during 2020, namely 20,000, which relates to 1,700 users every month. Already this year that has grown exponentially to 26,000 users. That's over 3,000 users every month our partners are deploying."
Rowan said there was a trend towards monthly licences during the pandemic, but the trend is now moving back to 5-year contracts which shows a growing confidence in the UCaas market.
"Last year, a monthly licence was the biggest decision that people made because they were scared about what was happening with their businesses. This year it's switched back, and the 5-year licence was our most popular, with half the licences we have sold going out as 5-year ones, which is great news for partners who want to build recurring revenues."
Wildix hardware is still being sold strongly – 29,000 pieces in 2020/2021, but Rowan expects deskphone sales to tail off in the next few years. 
"Gartner has predicted that by 2024 85% of users will only have a headset, there'll be no handsets left," he said.
An exception will be DECT phones and one of Wildix's most successful hardware products is its W-AIR Med phone for use in sterile environments which, Rowan reported, became very popular during the height of the pandemic.
"Due to Covid-19 partners sold these all over the place resulting in a 466% hike in sales – our biggest hardware increase," he said. 
Another trend reflecting the move away from traditional telecoms hardware is the take up of Wildix's 'hardware as a service' which provides partners with more recurring revenue and means customers are not committed to CAPEX purchases.
"Some of our partners don't sell CAPEX at all now. They sell Hardware as a Service exclusively which has seen a growth rate of over 650%," said Rowan.  
The partner event concluded with an award presentation to Wildix's most successful partners in 2020. Winners were: Highest Total Monthly Recurring Revenue (MRR) - Taurus Clearer Communication; Highest Total (MMR) - FCP Technologies; Highest Total MRR 2020 - CommsProvider LLP; The Wildix Way Award - Design Communications (UK) Ltd; Best  Newcomer  - NT Voice & Data Solutions; Marketing Star  - Channel Comms. 
"This event was organised to recognise the results and great work our partners have achieved with Wildix as a team, and we would like to thank each and every one of them for the success they have collectively brought to the UK business."
Caption: A day at the races for Wildix partners.