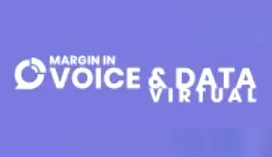 Last month's Margin in Voice and Data Virtual event laid bare the dynamics of a new Covid-19 market reality and the unprecedented opportunities facing the comms channel.
The most potent strategic planning must now include hosted and UCaaS, which have everything to do with growth and nothing to do with recession. According to Paul Taylor, Sales & Marketing Director at Voiceflex, the lead technology is now UCaaS as many organisations will want to make sure they are better prepared than pre-Covid-19. "UC and collaboration is a massive opportunity for the channel," he stated. "The market has changed and the channel must accept that change to move forward. For example, Teams is a big door opener for many organisations and new clients."
The launch of MyPhone's new brand is a sign of its strong intent to stay ahead of these remarkable times, affirmed Paul Gibbs, Sales Director. "Users are driving change," he said. "They want to flex up and down as required, and there is a big opportunity for the channel to help clients on their cloud journey. The responsibility lies with us to give users a full suite of business grade applications."
Post-pandemic, there will be a clamour for stability, reliability and value, and NEC fits the bill, according to Andrew Cooper, Sales Director. The vendor's UK PBX business grew 40 per cent last year and Cooper argues that having choice between delivery mechanisms empowers resellers to have the right conversation with customers. "The PBX is not dead," he stated. "Post-pandemic, customers will not all flow in one direction."
A link up with Intermedia has enabled NEC to ramp up its global cloud comms and collaboration services strategy as the tech partners launched the Univerge Blue Connect UCaaS solutions and the Univerge Blue Engage CCaaS offering. The roll out combine NEC's reach and relationship with its channel and Intermedia's UCaaS and CCaaS offerings. "With Intermedia we have a born-in-the-cloud partner that provides a fully integrated suite of UCaaS and CCaaS solutions," added Cooper.
It is fair to say that Covid-19 has exposed the historically slow uptake of UCaaS, and shown customers' dither over when to migrate to the cloud as bad strategic planning. Now they are rushing towards UCaaS, says Daryl Pile, Managing Director for Channel at Gamma. "We've had three years of digital transformation in three weeks, and your base is looking around," he stated. "Embrace change and the demand for UC, Teams and conferencing. We've pivoted parts of the roadmap towards Teams. Take a look at your suppliers and ask if they have been there for the channel."
Now we can do our jobs properly because there is a massive market to unlock
Despite hot demand for UCaaS solutions, elevating their appeal further is a top priority, believes Iain Sinnott, Sales & Marketing Director at VanillaIP. "We have talked about the benefits of cloud for years," he commented. "Now we can do our jobs properly because there is a massive market to unlock in the new world. But it is critical for sales people, when capitalising on this tragically created opportunity, to master the virtual meeting environment.
"The first interaction between sellers and buyers must get the engagement onto fertile ground. Good product knowledge and good questioning techniques will be most successful. And sales people need to bring products and services to life by selling with confidence and belief. Be enthusiastic about value, not price."
Bringing energy to sales pitches is John Haw's day-to-day activity. The Managing Director of Fidelity Energy noted that the firm now has 450 active partners and recruits 10 a month, which is not surprising when you consider that most organisations generally spend four-times as much on energy as they do on technology. "We've seen partners cross selling energy into their existing base," he said. "They leverage customer relationships and ask a few more pertinent questions to solve client problems. The energy market is complex and comparing apples with apples is difficult. Customers trust their ICT partners and respond well to them."
Increasing the resellers' presence within a customer organisation is vital, and according to Shaun Bodsworth, Managing Director at Inform Billing, a modern day billing solution gives end users more reasons to be sticky. "It's not just about voice any more," he said. "There is a requirement to bill for connectivity, cloud services, a range of recurring revenues, and tracking, reporting, validating, with the capacity to scale."
Nor is that all: Modern billing systems add real value to businesses. "For resellers looking to exit, part of the process is putting numbers on elements of the company – margin and revenues – and there will be a focus on whether the business is scalable," he added. "Having a robust and flexible billing system is key to preparation, scaling up and keeping a finger on margin and profit – which drives value in a business and increases competition among buyers."
In his many conversations with comms sector firms Philip Carse, Chief Analyst at Megabuyte, noted that most cash positions are better than expected. "Flat is the new up," he stated. "The profit outlook for the current year highlights the resilience of the comms sector."
As well as UCaaS being a massive opportunity we will see buying habits change, 30-day rolling contracts and usage-based hardware as a service take off
He noted that telcos are seen as ever more mission critical and that remote working will become a permanent feature, creating a need for cloud and connectivity. "Covid-19 will accelerate the drivers for FTTP, and people now know the value of proper broadband," he said. "There is also demand for fewer suppliers that offer best-of-breed, which reinforces the role of the channel."
Digital transformation and next generation networks are driving the sector, and the move to home working will accelerate that shift, observed Carse. "The challenge is to make sure you have diversification in connectivity and cloud-based services, and to bring in the specialisms for this new world, such as MS Teams skills," he added.
Glide, which has been rolled into a bigger business following its acquisition by Alinda, allows partners to enter areas that don't have hosted comms. One of its specialities is accessing hard to reach areas like business and science parks, for instance. Glide's network and penetration is growing and it is now ranked the eighth biggest UK ISP.
"We work with partners to identify areas of demand and potentially meet that demand with an infrastructure build, opening up areas for partners where there is no competition," stated Daniel Alvarez, Head of Wholesale, Glide. "Covid-19 has given a real life business case for why we need the cloud and fibre connectivity."
Perhaps the biggest business case has been the ascent of home working. But according to Ian Rowan, Senior Channel Manager at Wildix UK, the term 'home working' is outdated, it's about 'smart working', he says, enabled by collaboration solutions that increase productivity when away from the office and promote social wellbeing.
"As well as UCaaS being a massive opportunity we will see buying habits change with 30-day rolling contracts, and we will see hardware as a service take off based on usage," he commented. "Partners can't put themselves in a position of liability."
Smart incentives
Rob Loakes, UK Channel Manager at Wildix, noted that the company offers smart working incentives for partners and holds weekly sales training sessions. Partners can also sell through the Coronavirus Business Interruption Loan Scheme (CBILS) following a link up with Tower Leasing. "We are in an in-demand industry and opportunities are bubbling for solutions that allow smart working and business continuity," he said.
According to Adam Zoldan, Partner at Knight Corporate Finance, the ICT channel excelled itself in helping the UK to stay afloat, providing continuity of service as the nation suddenly jolted to a home working model where possible. Despite the disruption, for Knight it's been BAU over the past three months, but 'not business as normal', noted Zoldan. "Initially, we saw some investors and buyers hunker down," he commented. "That has relaxed now, buyers are back at the table and transactions are taking place – we've done three deals since lockdown."
In planning for the post-Covid-19 world, Zoldan said that resellers should be crystal clear about their strategic vision and how to advance it. "Understand what you want to achieve and articulate your ambition," he advised. "That's the starting point for your strategy. Be prepared, because you never know who might come knocking on your door."