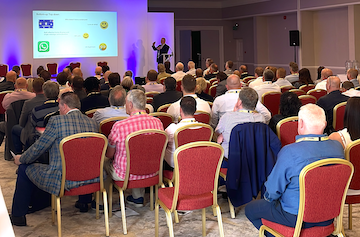 This month's Margin in Comms as a Service (MiCaaS) symposium – 23rd June, Forest Of Arden Marriott – delivered insights into a sector progressing towards a services led sustainable future that is replete with opportunities.
The priorities illuminated during this year's MiCaaS event are reflective of an evolving comms ecosystem in which traditional approaches are no longer adequate. In response, the symposium showed how the move to services has become a measure of success and value. And in the context of business value and the various factors impacting growth, Knight co-founder and Director Adam Zoldan pointed to a bright outlook and a strong deal pipeline. This is good news for those businesses suffering from a Covid-19 hangover and experiencing a slow recovery, especially around project revenue and supply chain issues.
To set the scene, Zoldan cited a survey by BOOST&Co, tapping into the strategies of 500 CEOs and CFOs, among whom 70 per cent are seeking access to funding while 63 per have already accessed debt funding, indicating that a growth mindset is prevalent. The survey also showed that 18 per cent of respondents believe that if their bank says 'no' to funding the door is closed. But other options are available providing organisations can show a history of profitability and have a credible plan and business model, noted Zoldan.
In more good news, deal volumes remain high despite a dip: Q4 activity saw 60 M&A deals versus 52 in Q1, but overall volumes were down 27 per cent year-on-year. That said, Zoldan noted that transaction activity remains 'reassuringly high'. Comms resellers are the 'hottest property', noted Zoldan. Followed by network and connectivity providers. In the IT space MSPs remain in demand. Expertise in transformation is especially sought after.
There exists however a spanner in the works: The National Security and Investment Act introduced in Q1 this year may become a consideration in certain circumstances where, for example, providers of services to the public sector may need to make a notification under the Act which could hold things up.
Competition for the best buys is intensifying, with the top seven buyers accounting for 59 deals during the past year. Also of note is that companies with the greatest access to funding delivered the highest growth. But with funding comes a measure of risk linked to having to meet the business plan. Yet, says Zoldan, the rewards are significant.
The symposium showed how the move to services has become a measure of success and value
One area not short of funding is the full fibre sector, and the FTTP campaign convoy continues to roll across UK territory where, in this market, value is placed more on premises passed than financial metrics. In all, circa 58 altnets combined plan to pass 80 million premises when there exists around 32 million, noted Zoldan, indicating a period of future consolidation in this market.
Zoldan's optimistic outlook was reflected in Gamma's Head of New Business for Channel Mark Lomas' exploration of the CCaaS opportunity in the context of three big market events – the PSTN switch off in 2025, the stop-sell in 2023 and the rise of hybrid working – all of which play into the hands of the comms channel, more so for those partners that have a grasp of opportunities around contact centre solutions. In fact, Lomas has witnessed 'massive growth in SME contact centres' and noted that post-Covid the landscape has changed to prioritise the customer and employee experience. More surprising perhaps is that Lomas tipped the sub-10 extension marketplace as a major sweet spot. They need the benefits of a contact centre, he enthused. And small businesses are likely to have a legacy PBX, representing an opportunity to update their systems and reduce costs.
But too often, said Lomas, he hears businesses say that they are not contact centres, and resellers may not see themselves as contact centre providers too, yet many customers have more than three communication channels and most see the customer experience as key to their success, with webchat, for example, playing an ever more prominent role. Historically, however, contact centres may seem to have been too expensive for smaller firms, but the cost could be as low as £15 per user. A CC solution may also be perceived as too complicated yet today they can be up and running in hours.
The remedy, according to Lomas, is to remove talk of contact centres from the conversation and focus more on solutions, digital channels and customer experience. To do so would surely strike a chord with the many businesses looking to introduce webchat over the coming months because it is now universally accepted that CX is critical to success – and it is a fact that customers are willing to pay more for an improved service. Leveraging CX to win business is perhaps best approached from a verticalisation perspective, noted Lomas, pointing out that Gamma has various partner support mechanisms tailored for specific markets.
Just as resellers might unwittingly assume themselves not to be contact centre providers, they may also apply the same negative perception to the opportunities available to them in providing secure payment solutions. It's no surprise that businesses take payments, and they usually start with a conversation facilitated by the services provided by comms resellers. In his keynote address, Brian Hudson, Head of Partnerships, PayGuard, noted that there are over 500 million debit and credit card payments made over the phone every year and in the many cases where there is no PCI compliance there is a big risk of fraud and reputational damage. Nor is that all – there is a significant opening for channel partners to reduce the cost and efficiency of processing payments as well ensuring compliance.
The PayGuard solution provides different methods of taking payments in addition to cards – including simple one-off payments and refunds, direct debits, standing orders and bank transfers. It also facilitates MOTO to E-comm conversion – which in everyday language means overcoming a potential payment issue regarding the buyer in real-time, thereby rescuing transactions that might have otherwise failed. Custom payment schedules can be set up while payment self-service and other automated services are available. The solution also caters for different currencies.
Hudson drew attention to a typical customer case study where the PayGuard solution generated client savings in excess of the cost of a new 70 seat contact centre solution, delivering a £34,000 cost reduction overall. The deal brought to PayGuard a 36 month contract worth circa £200,000 annual margin on £750,000 revenues per year. It's also interesting to know that the model is familiar to comms resellers, and Hudson estimates that within a reseller's customer base approximately 20 per cent to 30 per cent will take payments, with many more pushing payments out. No wonder he sees this as a major opportunity for resellers.
Generating revenues through services was also a key theme for Paul Taylor, Sales & Marketing Director, Voiceflex. He put forward strong arguments in favour of UCaaS, citing Gartner statistics that suggest by 2024 as many as 80 per cent of organisations will prioritise collaboration and meeting platforms over telephony when defining a UC portfolio strategy, up from 30 per cent in 2019.
Much of this big swing towards collaboration is of course attributed to Covid-19. A case in point is that in 2019 MS Teams users numbered circa 20 million. In Q4 2021 that figure jumped to 250 million. Moreover, WhatsApp in 2021 registered 2.2 billion users. Both these platforms provide effective forms of group and single message communication and their trajectory will continue, with implications for the types of comms services businesses will deploy. According to Gartner, 77 per cent of users use real-time mobile messaging tools for quick and informal conversations related to work. And according to Taylor, an opportunity exists for resellers to deliver UCaaS solutions into a market gap that exists between the businesses that use MS Teams and those smaller ones that leverage WhatsApp.
Even better, an omnichannel approach will ensure more efficient communications, emphasised Taylor. For the customer, they get anywhere, anytime contact via several channels, a better customer experience and an easier customer journey. On the company side, advantages exist in having a unified solution that provides an overall picture, delivers access to better information, maximises resources, offers more granular insights and brings speedier ROI.
Returning to Zoldan's insightful analysis of the growth mindset that exists in many businesses today – and that expertise among ICT providers in transformation is in hot demand – it is clear for all to see that the channel faces a significant opportunity to capitalise on the markets discussed in this report, especially in the context of the 2025 PSTN switch off which can only act as another catalyst for long-term profitability.