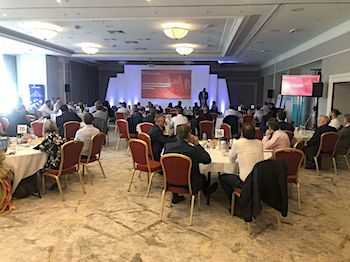 The comms channel should not now weaken the strength that allowed it to shine and keep Britain working during the pandemic. We need another revolution in ICT adoption and this month's real-life Margin in Comms as a Service event aimed to kick start a phase of sustained urgency to address today's pressing priorities and opportunities. 
The channel should not dim its glowing reputation by weakening a proactive stance that has given it such acclaim since the pandemic hit. The next big challenges? Organisations are entitled to education about the 2025 switch off; smaller firms are long overdue technology that previously only enterprises could afford; businesses small and large are eligible for the technical means to ensure brand loyalty and strong customer relationships; and they have the right to technology enabled long-term sustainability. The key message – there is no cover for the channel not to act quickly on these priorities. 
We must also consider that the new post-Covid working model will not diminish nor will the often overlooked business potential within micro-businesses that have the same requirements as much larger counterparts. For too long, sub-10 extension companies have been ranked cheap but ignoring this substantial sector is a dangerous game, according to Mark Lomas, Head of New Business – Channel Sales, at Gamma. In his keynote he called the micro market a 'forgotten child' and urged delegates to drive value in this sector with new products and services.
"There are 6.3 million micro businesses with over eight million users and the lowest market penetration," he stated. "2025 is a supercharged event, a catalyst for moving forward with the right messages to drive the single line replacement market. How we communicate this message to customers is important. Covid detracted from the 2025 switch off. Act now and make the process simple.
It's all about the customer experience and what you can do to deliver that experience. That's the driver behind everything
"For two years we have been trying to bring collaboration to the market. Now, if you don't provide it you're not entertained. Change is driven by customer behaviour and we will see the biggest technology overhaul in years during the next 12 to 18 months. It's all about the customer experience and what you can do to deliver that experience. That's the driver behind everything."
The pandemic has shown to everyone what we already knew, that cloud is the future. But markets sometimes need to undergo a trauma to force them to look in the mirror, change and align with disruption. Andy Robinson, Head of the UCaaS Practice at Gamma, commented: "Consumers are buying differently, driven by Covid-19. And the UK Customer Satisfaction index indicates that service levels are poor. There is a need for the expansion of omnichannel-type services - and customers are prepared to pay more. Resellers have a proposition to do things better with enterprise level UCaaS and CCaaS features for micro-businesses."
 
Robinson noted that the micro market has not been the subject of deep and ongoing industry analysis. Yet sub-10 user organisations all have contact points with end users and need brand loyalty. "Many organisations don't realise they are contact centres, but they are numerous and a new hunting ground," stated Robinson. "There is circa one million users with contact centre needs. That's where CCaaS fits in, as a driver of customer experience enhancement. It has never been more important to build relationships with customers and they require omnichannel solutions."
TelcoSwitch CMO Simon Blackwell highlighted the fact that 92 per cent of small businesses already use one or more cloud-based solution, and with circa six million small firms in the UK, employing 13 million people, this segment accounts for 50 per cent of turnover in the private sector. "Customer experience solutions should not be for enterprises only, they should be for any business," he stated. "People want to connect with brands in ways that suit them. Take Facebook, which has 44 million UK users and billions of messages sent via Messenger. And consider WhatsApp and the many other comms channels. 
"Now, the customer experience for SMEs means an opportunity to integrate extra channels of communication, delivered via a customer experience platform that brings everything together with a single pane of glass. It's all about seamless communication, and how to bring in applications and integrate data streaming. Complicated and expensive is wrong - this is not just for enterprise with deep pockets - the connection with the customer is far more important than ever."
The pandemic has put a spotlight on what end users really want, which is proximity to a supportive cloud comms provider. For customers of CPE-only providers a swift move to cloud may have been sorely missed during the pandemic, with a potential impact on customer relationships. "The customer experience is of paramount importance, and it should come straight out of the box," stated Cliff Chandler, Head of Sales, NTA. "I've been gobsmacked by the number of resellers still pushing on-premise. It's time to embrace the cloud world because end users need a flexible solution. There is much to be done by all over the next four years. We have to tell customers what is happening in the context of 2025."
Many organisations don't realise they are contact centres, but they are numerous and a new hunting ground 
On the flip side, Chandler has also observed a recent and growing trend towards the adoption of cloud solutions in his partner base. "There has been a spike in the last two months as more resellers realise they need to adopt hosted solutions quickly," he added. "They recognise the priority to get into the hosted market, and end users understand that they need a more flexible solution. We are also seeing demand for collaboration and analytics solutions."
Those attending Margin in Comms as a Service were urged not to make a rough stab at channel partnerships, nor show deference to price but prioritise network topology and its role in driving improved customer experiences and reliable services. "Think more about the 'what if?' question when formulating a strategy," stated Voiceflex Sales Director Paul Taylor in his address to delegates. "This involves having a good understanding of the topology of a network before buying services, because 'what if' it went down and the customer blames you? Don't look to blame someone else. You decided on your services."
Taylor brought his argument into the context of maximising uptime for customers and reducing support tickets at the same time, advancing a direct connection to the Internet as the way forward, supported by Voiceflex's own stats having experienced 99.9998 per cent uptime over 11 years. 
Address the 'what if?' question first and you will be free from 'if onlys'. That's an approach that resonated with Knight Corporate Finance Director Adam Zoldan's keynote in which he emphasised getting your house in order to create greater company value - starting at the beginning. "If you are considering a transaction think hard about your aspirations, this will help to mould the business to what you want," he said. "Being prepared is key to bringing certainty into a deal, and make sure you understand your buyer or investor."
Other factors that drive profit include the ability to deliver growth, target market sectors and scale, and the size of the business. "The market remains open and active with a range of funding available and competition for the best assets," added Zoldan. "Consolidation between platforms is irresistible."
He explained that the telecom reseller sector registered seven per cent organic growth pre-Covid, and nine per cent at the start of 2021. The current outlook is 10 per cent. These figures are reflective of the channel's key role in keeping the UK working during Covid - with April to June 2021 being the busiest period witnessed by Knight in terms of deals - all of which, as has been the case for some time, emphasised the importance of recurring revenues.
"Covid turned a technology evolution into a revolution," said Zoldan. "The home economy has also accelerated the switch to hosted solutions and SaaS, put a spotlight in the importance of connectivity and security, and underlined the decline of the PBX and servers."
All organisations have their market biases and PE investors are no exception. ICT is viewed as a safe and predictable sector, attracting a flood of investment with funding diverted from other sectors into safe havens. "There are more buyers now than we have experienced in the last 12 years, with 13 new investments in the last quarter, mostly PE, driving up values of 5 to 7 x EBITDA," added Zoldan. "The success of the buy and build model is driving more PE funds into the sector, creating competition and driving up values."