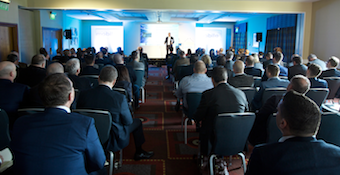 Speakers at the inaugural Margin in Mobile event, staged at the Northampton Marriott Hotel on March 21st, were united by their assessments of the mobile market as a hotbed of channel opportunity.
And for Garry Growns, Sales Director at Daisy Wholesale, what matters most is actually recognising the opportunity and taking timely action to generate additional and significant margin. "We are in the middle of an amazing opportunity," he stated. "Yet I'm still surprised by the number of resellers not selling mobile, which is a standard business tool. 
"In this second generation of mobile we're seeing a step change in opportunity as the market evolves, and the channel is well placed to capitalise on this trend by partnering with the right supplier. The key is knowing how to adapt and change your business, which may need technical and fast-start sales support. Mobile, if not already, could become one of a reseller's most profitable products, with 30 per cent to 32 per cent margin available for partners."
Daisy Wholesale registers circa 12,000 new connections every month with significant growth in applications and data. This is not an opportunity that should pass through the mesh of day-to-day distractions, especially considering the influence of a growing market such as the IoT. But to make the most of real-time data and multi-network propositions a data management platform is critical, explained Anton Le Saux, Strategic Telecoms Leader at Zest4, who noted that getting all of the data in one place is a matter of hefty investment or astute partnering. "Mobile networks are protective of their core network and data visibility," he said. "And few of them have a managed data platform for partners."
To plug the gap Le Saux noted that Zest4 has invested in a platform which connects into the network and gives visibility of data consumption, enabling partners to see what's happening in their own estate via various account management functionalities, analytics and reporting. "The platform can be personalised, enabling partners to position themselves as offering managed connectivity," he added. "IoT opportunities exist in all sectors. We are moving into a smarter connected world."
Speakers at Margin in Mobile were united by their assessments of the mobile market as a hotbed of channel opportunity
Pangea Managing Director Dan Cunliffe also emphasised that the IoT is at the core, and expressed his passion to develop ways for mobile to be used in smarter ways. Key to this is Pangea's partnership with Kingston University which seeks to overcome the challenges faced by 5G networks in maximising data transfer. "The project's aim is to develop enriched video compression and data transfer techniques over 4G+ and 5G networks, unlocking groundbreaking speed and quality capabilities with huge implications, paving the way for data transferal over powerful 5G networks," he said.
Is mobile data and 4G a real business tool? Asked Mike Van Bunnens, Managing Director at Comms365. "Yes, if it's properly understood," he stated. "Not all SIMs are the same, and the key question is how 4G can become business grade. Speed frustrates us but it's not about that, rather the impact on latency which increases when a data SIM is put under pressure, leading to a bad customer experience."
He cited pre-Ethernet as a common use case suitable for a small office, but with no control over the bandwidth bigger firms will suffer from latency issues. The opportunity for resellers, he said, is a solution that delivers manageable pre-Ethernet which is quick to deploy and simple to use. Enter SD-One, a clever box that takes lines and 4G from a combination of providers to give a fully integrated solution with less configuration and a better user experience. "If you manage speed, latency is constant," stated Van Bunnens. "SD-One takes any connectivity from any provider and acts as a SD WAN device, enabling bandwidth optimisation control, turning 4G into an exciting business tool."
Mark Curtis-Wood, Head of the Networks Division at Nimans, noted that an important consideration for the distributor is the decline of voice and the move to mobile, a trend underscored by its relationships with O2, Vodafone, and particularly BT/EE which he described as a 'perfect storm'. "We are seeing a shift in the market towards IP which is critical in the mobile space," stated Curtis-Wood. "There couldn't be a better time to embrace new revenue streams as data is used as a means to communicate."
The important role of the channel in delivering mobile services to SMEs was a point strongly made by Roan Pratt, Head of Product Sales at Gamma. "The big boys can't look after SMEs," he stated, adding with a note a caution that resellers could be at risk of being 'boxed in' by the mobile networks. "Don't be hemmed in by the operators – build stickiness and barriers to entry," he urged. "Mobile is about ownership and recognising revenue and margin from your base, and you only get this via the wholesale model. The networks are historically about ARPU, but you can have a conversation about how best to tailor the experience for the end user, and also enable customers to manage their own mobile."
But it's not just about selling, it's about tweaking, advised Derek Watson, Managing Director at Aurora (which was acquired by Daisy), who gave delegates an example of how billing systems can be leveraged to bring added value and increase margin by reducing the workload and the manageability of an estate. "Data is key to optimising margin," he commented. "You can generate more margin by picking the right package. Ask whether the customer has the right size data bundle according to their usage. Resellers could, for example, save 50 per cent on line rental if clients are not using the data. A shared data bundle option could be key to even more revenue and margin. Billing systems help you to get the customer on the right bundle every month."
How customers should procure and pay for products and services, including mobile, should be revolutionised, according to David Nelson, Services Director at Tech Data. He took the audience through the distributor's innovative subscription portal which he champions as the way forward, showing delegates how the subscription model can offer lifetime device management and deliver profit for resellers. 
"People like to spread payments," he stated. "Resellers can take the portal to the end user, offer a subscription, and add services, costs and products from other distributors and operators. A residual value calculator is pulled through the subscription and the portal credit checks automatically, currently exhibiting an 85 per cent pass rate. Resellers can also create their own white label quotes, offer an API or use it out-of-the-box." 
The portal, which has received £4 million investment so far, is integrated into Tech Data's InTouch sales platform, and according to Nelson people are starting to accept this new way of selling that gets technology into peoples' hands quickly, knows when the customer is due for a refresh and receptive to promotions, and also offers corporate mobile recycling. Just as Tech Data is seeking to disrupt conventional procurement methods, Graeme Good, Head of B2B Sales at Samsung, followed Nelson's presentation by concentrating the audience's thoughts on the extent to which mobile is a market disruptor. "Resellers should focus on driving new revenue streams with mobility at the centre," he stated.