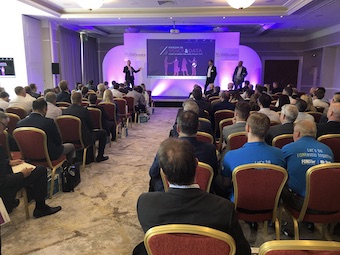 Managing change is the cardinal issue for most ICT resellers who face direct challenges and opportunities on a number of fronts, according to speakers at this year's Margin in Voice and Data symposium (Forest of Arden, Coventry, July 4th).
Industry transformation is inevitable and the channel needs to face up to it. For resellers, their future may be in the balance, while occupying perhaps the strongest position they have ever been in. No surprise then that the concept of managing change is now entrenched in comms sector discourse. But as with most concepts, change has many shades and can mean a number of things. For Iain Sinnott, Sales & Marketing Director at VanillaIP, it is important to prioritise the idea of personalisation as we move the cloud model forward. "Businesses deploy technology in a general way that does not maximise the performance of individuals," he noted. "We need to identify technology that will 'optimise me'. We need to conduct a personal tech audit and deliver the exact toolkit to each individual human resource, by linking the product platform to personal productivity profiles."
Sinnott called for solutions to be designed for use by all individuals, woven almost into the fabric of their being, to be the best they can be. He asked why personalisation is not more widespread, and questioned the current state of workers being 'on demand'. "To make humans more effective we need a cloud management platform such as Uboss, then overlay personalised services via the cloud," he said. "The potential to win or lose is big, but you can differentiate through the productivity effect of personalisation and peak performance."
Cut to Paul Taylor, Sales & Marketing Director at Voiceflex, who pointed out that while the market is transforming under our noses, many people do not think about redefining the workplace. But the next tranche of employees will change all that, he believes. "By 2025, 75 per cent of the workforce will be Millennials – the last thing they want to do is make phone calls," he stated. "They are young and headstrong, and 20 per cent of Millennials want to be in upper management positions. So we have to change the marketplace – and fast."
Among other things, Taylor has long regarded apps as vital. He cited the usage stats of WhatsApp to underline his point. It's proving very popular, with two billion voice and video calls and 65 billion messages a day. "The application market is creeping up and moving forward," added Taylor. "Consider Zapier, UC and APIs. To redefine the workplace full UC is a necessity with API integration, messaging, collaboration and AI. The comms platform must encompass everything."
To redefine the workplace full UC is a necessity with API integration, messaging, collaboration and AI. The comms platform must encompass everything
Axel Klossner, COO at German vendor Auerswald (which also operates the FONtevo brand), noted that changing times inevitably spawn hype in the market, which he sought to bring down to earth with clear thinking, offering delegates advice on big issues such as the ISDN switch off and shift to cloud. The ISDN shutdown in Germany was planned for December 31st 2018. It sparked panic among many firms that did not prepare early enough for the switch off.
"The biggest issue was not informing customers about why they need to make the switch," stated Klossner. "So educate clients early about the business value and benefits of SIP – better communications, new solutions and improved revenue streams. In Germany, every reseller that started early on the transition generated new revenue opportunities."
The concept of change is universally applicable to the comms sector, and in many instances that change can be radical. But while Klossner affirmed that cloud is the future, he advocates a soft migration as customers require choice. The concept of on-premise and cloud solutions sharing the same strategic roadmap may appear counter-intuitive, but it renders customers more comfortable in their transition, according to Klossner.
"Provide an on-premise bridge to the cloud," he added. "Customers want pay-per-use, so combine approaches to the cloud, on-premise and mobile. Today, more than 50 per cent of the buying power still rests with on-premise, so implement a migration to SIP programme now and create a portfolio of services to help customers manage to and from the cloud, including a step back if the cloud isn't for them. Force vendors to provide agile future proof services, and find a recurring model from cloud and on-premise."
Matthew Worboys, Head of Channel (South East and Scotland) for Gamma, pointed out that cloud penetration was measured at just 16 per cent in 2017, but is forecast to hit 40 per cent by 2022. Perhaps the biggest opportunity resides in the 50 to 249 seat space, which Gamma defines as its mid-market, and where cloud adoption is currently lowest. "Employees are demanding instant UCaaS features such as conference savings," stated Worboys. "It's no longer about replacing a PBX with a cheap cloud alternative. Successful partners truly understand the client and tailor their proposition specifically to deliver real business value, displaying an understanding of areas such as CRM. We include hardware to help tailor the proposition. It's about knowing the requirement and pushing the order value up."
Co-presenter Paul Gibbs, Gamma's Head of UCaaS and Mid-Market Sales, urged delegates to ride the UCaaS wave and avoid the race to the bottom on price. In this, Gamma's ownership of the core network is key to managing solutions from cradle to grave, he said, while urging conferees to take a hard look at what makes them different in the marketplace. "Look at the technology you sell, the markets you target, how you shape your proposition, the hidden verticals that reside in your customer base, and ride the UCaaS wave," he stated.
It is a shame that the tech that underpins industry transformation could also block the conduits of growth. "It is incredible how long it takes to get connectivity into the ground," stated Mark Curtis-Wood, Group Sales Director at Vaioni. "We completely rely on connectivity as we adopt cloud. But not all networks are the same. We have our own core network, with an uptime of 100 per cent for four years, largely achieved through its self healing properties. Resellers need a connectivity provider that can support cloud comms, that uses automation and SDN, into which Vaioni is investing millions. We are also handing over the keys to our network through SDN automation, and enabling the network for 4G and 5G."
How to stay ahead of the market and push forward is a pet project for Adam Cathcart, Managing Director for Partners at 9 Group, who, in our changing times, emphasises education and talking to customers as key to future success. 9 Group has itself undergone a transition, reflected in its WLR and CPS revenues which reduced by 13 per cent last year. This shrinkage was counteracted by SIP and hosted margins which are stronger, making the business more profitable overall.
"We've seen that transition from SIP to hosted," he explained. "Last year we had more SIP sales than hosted, now it's 60-40 towards hosted. We also experienced a big increase in leased line business, up 74 per cent. In mobile, our average user was using 600MB of data, now it's over two gig. People want to consume information quicker and have access to data. So constantly talk to customers and educate them about what's happening in the market."
To further illustrate 9 Group's evolution, Cathcart noted that the company added 70 people during the last 18 months with a tech or IT background. "We need to be up skilled to support our partners and enable this transition," he stated.
Cathcart is right to champion partner and customer education as inculcating the spirit of change and keeping pace with the times. There cannot be too much education and customer discourse, he emphasised, to forge strong alliances and ensure survival. In their own transition, Cathcart urged delegates to 'talk to customers or lose them'.
Against this backdrop of industry change, Knight Corporate Finance Director Adam Zoldan highlighted a big shift to managed services and noted that a spurt in deal activity is symptomatic of overall comms sector transformation, which doubles up as a stimulus for investment and acquisitions. He noted that 617 deals in 12 months across the whole tech spectrum is clear proof of a buoyant market, with intensifying activity around M&A, buyouts and fund raising in the capital markets. "There is much enthusiasm and high investment in our sector," he stated. "PE investment is driving acquisitions, and as competition increases PE firms are looking at smaller deals. The most potent driver of value is to realise it, so be consistent and deliver on expectations to build trust and worth."