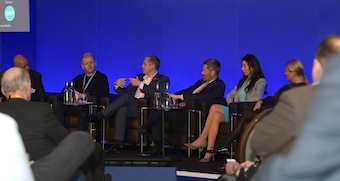 Comms Vision's (November 6-8, Gleneagles) opening SuperSession drove towards the core of what will form a successful long-term strategy in Digital Britain, and helped delegates to prepare their business for the growth opportunities that lie ahead, especially as enterprises begin to focus on the new technologies, applications and OTT services that will be underpinned by pervasive fibre and 5G infrastructures. 
Sooner rather than later, the pressure of Digital Britain's accelerating development will force traditional channel partners to choose between embarking on a journey of transformation or risk becoming irrelevant. According to Alex Tempest, Managing Director of BT Wholesale, there are plenty of reasons for the the first option to be taken. "Digital Britain equates to opportunity," she stated. "It crystallises the fact that customers are moving at pace as they seek new opportunities in their own environment in terms of how they reach customers in a broader, slicker, more agile and disruptive way. The channel can take them on that journey and elevate the customer experience as agile and disruptive players in the market."
Perhaps more than any determining influence on UK plc, technology has become a code for organisations to unlock growth faster than they previously imagined. "The key driver is that customers are seeing the art of the possible, recognising their ability to rapidly accelerate their business – and in this the channel can play a crucial role," added Tempest. "The comms industry has long known this art of the possible, but we haven't seen it coming quickly enough. Rapid uptake will be a destabilising factor so the industry must drive the adoption of convergence." 
In all this we must define what Digital Britain truly means and identify the factors at play in the market,  from the dug out fibre trenches to the rise of coopetition in the channel. "We see, especially among the altnets, a tapestry of capability emerging across the UK footprint," stated Gary Steen, Managing Director Technology, Change & Security for TalkTalk. "Therefore, the customer has far more choice, but with that choice comes the complexity of putting it all together. We're moving away from a single party approach towards an ecosystem based on collaboration."
At no other time has the industry been minded to work together in mutual collaboration, but it's an emerging model that may come to define the current era as it ticks the Digital Britain box. "We sit in an incredibly complex market and having coopetition – and knowing that you can pull together the customer solutions whatever they may be – is important," observed Tempest. "As Digital Britain is about packing together new and disruptive technologies, it is critically important to work with trusted partners, with a clear level of engagement."
We can all see benefits in Digital Britain. We can also see the challenges facing the ICT channel. In the past, challenges have served the channel well, and it's no different today. "The market's getting more complex," noted Justin Fielder, CTO at, Zen Internet. "Therefore the channel must truly understand what matters in the digital economy rather than where they perceive they can build value systems. This is the challenge and the opportunity, because if you understand that reliability, speed and capability is what's driving the consumption of products, then you can deliver that to your customers."
The oft-repeated claim that simplification of the comms industry is an unquestionable boon was brought into question by Daryl Pile, Managing Director at Gamma. "As things get simpler, broadening the portfolio sounds like the right thing to do, but the traditional model of having two or three vendors per discipline will put you under stress," he said. "Is it fair to ask your sales, operations and provisioning teams to be experts in various disciplines? That's not going to scale. So you have to think about one partner per discipline or multiple disciplines. You can't be an expert in everything as you try to maintain the value that you create."
The rise of Digital Britain is a blessing to all except stick in the mud traditional comms resellers, not least because the industry is transitioning towards professional services, which poses a challenge to them, believes Fielder. "They need to go on the same transformation journey as the infrastructure providers," he stated. "It follows that in Digital Britain channel partners need to think about how they can use digital tech to transform their own business. The ability to pick and choose and build an ecosystem based on standards and integration factors enables partners to get inputs from providers with similar ecosystems that, for example, provide knowledge on what is happening in the customers' network."
At present organisations are wanting to solve a number of challenges and the channel can take to the marketplace value creating solutions that are innovative and encompass IoT among other emerging technologies, says Elsa Chen, Chief Customer Officer at CityFibre. "We must leverage machine learning across the whole customer journey to provide the best experience and free up investment in innovation and creativity," she commented. "We need to be experts and leverage our partnerships with competitors in the market to deliver complete solutions. We need to operate in a highly collaborative environment with greater coopetition and collaboration between competitors." 
That works on one level, but, observed Pile, in Digital Britain there are over 100 hosted UCaaS providers able to meet more customer segments than ever before and competition is at boiling point. "The barriers to entry are lower and digitalisation is driving greater choice," he stated. "The channel has important choices to make. There will always be somebody cheaper on a specific product, but it's about how you bundle and integrate solutions that work. Gamma surveyed 400 IT decision makers and 73 per cent said they value the integration of products more highly than the products themselves. The value the channel creates, and sells, will come out of how they integrate, the advice they give, the connectivity and the application – and making sure it all works for the customer."
For end users price is important, but just as key is speed and reliability which taken together are bigger than price, noted Fielder. "This shows that the dash to the bottom for price over many years has played its game," he added. "Connectivity is not a commodity supporting the ecosystems built around it - it's actually driving people, their purchasing habits and businesses.
"The move to transform a traditional IT based business into one where people can work one day at home is a big journey for a lot of people, and it's the channel's magic to sit down and understand what that journey is, get the right inputs and suppliers to provide the right solutions and then build a business based on that approach. It seems straightforward so long as you are prepared to look forward rather than backwards."
Now, channel partners have a golden opportunity to take command of delivering Digital Britain, and act in their own and the country's interest. Never has there been a more transformational time in the history of the UK's comms industry. "Digital Britain enables organisations and people to work as they choose, consume products and services as they wish, engage more effectively with people, leverage machine learning and deliver a service that allows them to go out and drive their business," noted Tempest. "It's ultimately about flexibility.
"In the next ten years, 60 per cent of school children won't know the job they want to do because it hasn't been created yet. This notion encapsulates Digital Britain – its about agility, transformation, being able to decide where you want to take and manage your business in a way that suits you. What sits behind this is an ecosystem of providers at every level which can help to deliver that seamless experience, and improve on it time and time again."