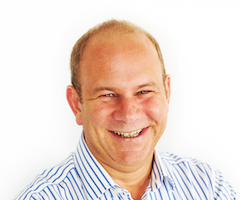 Few sections of the comms channel ecosystem are as dynamic as the billing fraternity, and the signs are that an already speedy software development environment is set to accelerate further.
A new driver for competitive innovation has emerged in the channel's billing sector following the merger of Aurora and Shaftesbury Systems with Union Street Technologies. "History shows that competition drives innovation as well as commercial competitiveness, and this is true in the billing market," said Inform Billing Managing Director Shaun Bodsworth (pictured). "Some might argue that when larger and more powerful players seek to gain advantage through size alone it becomes detrimental to the customers and market they serve. It is paramount that resellers have legitimate choice in all elements of their supply chain, even more so in the current climate. I hope to continue to see billing providers across the industry benefit from both new entrants and new offerings in the market."
Bodsworth noted that an ongoing development roadmap is critical to success in the fast-paced comms industry. "To date we have invested over £2 million into our Eclipse NG billing platform and continue to plough 45 per cent of revenues back into developing the software, focusing on API driven integrations and end customer self-service options," he explained. "We are currently introducing a range of partnerships and integrations with complementary applications and third party carriers to offer joined up solutions. Our roadmap will see us continue to develop enhancements that enable automation to ease and simplify the billing process."
With customers spanning traditional telecoms, IT, mobile and IoT as well as utilities, waste management, banking and even hospitality all using Inform Billing's software, Bodsworth is developing partnerships in diverse markets relevant to the subscription economy, opening up future opportunities for both the company and the channel, he pointed out. This all builds on a decade of growth.
"We celebrated our 10th anniversary in business at the start of 2020 and continue to grow in terms of profit, revenue, staff and customers," said Bodsworth. "With circa 300 resellers we are maintaining our growth plans and are currently on a recruitment drive to help us to fulfil those aspirations. We also recently signed a deal on a new head office, providing a modern collaborative space for our 30-plus team to come together when we are fully able and when required."
It is paramount that resellers have legitimate choice in all elements of their supply chain, even more so in the current climate
Inform Billing offers its software as a managed bureau service or on a self-managed basis. "During Covid we have tried to be as flexible as possible," added Bodsworth. "We have helped a number of our self-managed customers by providing temporary bureau support where staff were furloughed and it made sense to outsource to our team. The flexibility within Eclipse means resellers can opt to give payment holidays and temporary discounts to specific customers – with charges automatically recommencing when the period is up.
"Through the reporting suite it's straightforward to manage costs, understand profit and most importantly, know if an individual customer is making you money. Part of any good service is staying close to individual customers' needs and being able to respond and adapt to changes in their requirements."
Tekton Head of Operations Harry McKeever agrees that businesses have to be responsive and flexible to the needs of customers, therefore their billing platform has to be accurate, automatic and customisable. That's not all: "Flexibility seems to be the word of the year for the channel," he said. "Also, with SaaS products becoming so popular and margins so small, billers must be able to include those value add services from day one, as well as any other in-life products or custom bolt-ons, to maximise revenue."
Referring to Tekton's billing platform, called Zoey, McKeever said strong self-care functionality is helping billers spend more time in meaningful conversations with their customers and less time dealing with easy solves. "Plus, it gives customers more control over their infrastructure, meaning happier customers too," he added. "Ensuring our clients have the ability to integrate Zoey within their existing systems is another trend. And margin analysis is vital for businesses looking to maximise their income in such a competitive industry. Therefore incorporating more data points to enhance AI-driven insights will be key."
As a cloud-based platform, API integrations were built into Zoey from day one. For example, self-serve was one of the foundations of the platform. "Now, end users can manage their accounts, perform SIM swaps and set usage caps and alerts to ensure they have as much control over their organisation as possible, while optimising the reseller's time," commented McKeever. "Adding more self-service functionality is important to our long-term strategy and we're looking to enhance the customer portal with more functionality in the coming months. We want our partners to be free to bill with no restrictions and complete privacy."
Even before coronavirus, pointed out Intelligent Billing (formerly PRD Technologies) Managing Director Simon Adams, there was a move towards a more automated approach. "Covid has fast tracked that trend, and many businesses have needed to furlough staff which means those left in the company may not be fully up to speed with billing," he said. "Having a system that does all the hard work not only delivers peace of mind but also ensures accuracy and speed. Moving forward, I see that automation and integrations are just going to accelerate. And the convergence of platforms, with more resellers moving to offer IoT and SaaS, means that billing needs to keep up with the fast speed of technology developments."
The convergence of platforms, with more resellers moving to offer IoT and SaaS, means that billing needs to keep up with the fast speed of technology developments
Adams said Intelligent Billing's platform also supports demand for data and its analysis. "Data will drive plans for the future, so accuracy of reporting is essential," added Adams. "Alongside this, further integrations, automations and APIs continue to come off the production line. Meanwhile, with Brexit looming, the requirements for multi-currency and multi-lingual capabilities are likely to increase. Our roadmap will never stand still."
Adams sees the direction of travel as being in emerging markets such as cloud distribution, print as a service, Internet per-click and IoT. "In terms of diversifying, our platform has been supporting big players in cloud-based application billing," he added. "For example, Westcoast Cloud attributes its ability to grow from an £18 million to a £75 million per annum turnover business to our billing software."
Billing needs to be more than simply a processing function, pointed out Nick Jarrett, Head of Revenue Management & Billing at 9 Group. He says there is an opportunity for service providers to deliver value add by supporting partners with a managed billing and support wrap.  "Partners now expect a more human level of support beyond the processing and production of their customers' bills," stated Jarrett. "This can include follow up support, the management of customer billing queries, commercial insight and helping partners to make sense of their billing data."
 
Identifying changes to customer behaviours allows partners and service providers to get ahead of risks and opportunities. Over the past six months most UK organisations have experienced significant changes in behaviour from their customers. Rather than basing re-forecasts on predictions and gut feel, billing data has allowed 9's partners to gain clear visibility of changing trends based on facts. An example is customer call volumes.
"We have observed that call volumes have naturally reduced as many businesses switched to home working and staff were placed on furlough," added Jarrett. "But the duration of customer calls increased. This data leads us to question why, so that we can support partners to better understand and leverage this information. Data intelligence has always been a priority, but situations like this really bring them into play in a practical sense."
 
Looking ahead, partners will want to see more recurring revenues, bundled calls and a switch towards a more IT focused product set to accompany their existing telecom portfolio. "We see potential for customers to begin paying a single, clean charge for all the IT and telecoms services they need on a per-user basis," commented Jarrett. "Longer term, it's important to further develop a data led approach, to help support partners to better understand their customers and opportunities. Understanding what customers buy, how they buy and their usage can deliver a high level of business intelligence. This, teamed with automation can allow customers to self-serve with adds, moves and changes, as well as supporting upgrades and the cross-sell of other products."
 
Improved business intelligence and automation may allow partners to take a more click-and-play approach to their billing, while boosting sales at the same time, pointed out Jarrett. Therefore, 9 Group is also developing more of a self-serve approach, whereby partners and their customers will be equipped to access and interpret their own data.
"We want to present sales opportunities and enable users to have the information readily available to make informed decisions, and the controls to act when they are ready to implement," commented Jarrett. "By developing a more automated approach around sales and order management, we are looking to present partners with information to encourage new sales and up-selling opportunities."