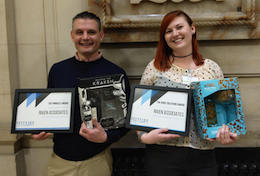 Riven Associates have secured at win double for success in 2019 at the Spitfire Partner Awards.  
The Egham based business collected The Pinnacle Award for  the highest new business sales and the Voice Solution Award for the the highest new business SIP sales. 
Picture shows Director Kevin Grubb and Account Manager Cheryl Hart  showing off their awards.