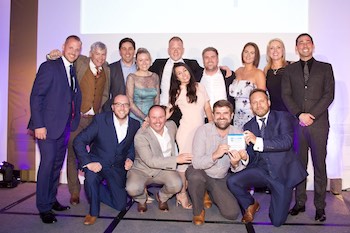 Sales and Marketing teams from telecoms and IT companies across the UK are set to unite once again for the Comms Dealer Sales and Marketing Awards which will be streamed live across the internet on December 10th. 
Following on from the highly successful Comms National Awards, which brought together an online audience of 600 plus in October, the CDSMAs will follow the same format and the organisers are confident of another bumper turnout with a Christmas theme added into the mix. 
"We were unable to run the CDSMAs in the spring due to Covid-19, but we could not let the success of the channel's hardworking sales and marketing teams go unrewarded, so we're going to broadcast the awards live from London in the same way we ran the Comms Nationals," said Awards co-ordinator Nigel Sergent.
"This has been the toughest year ever, but ICT sales and marketing teams have risen to the challenge and should be acknowledged for the amazing work they do. I also think the channel deserves a party and we hope teams across the land will log on and get into the Christmas spirit, whether in their home or in their businesses, if the current regulations are relaxed as predicted."
Now in its 9th year, the Comms Dealer Sales & Marketing Awards will be fully supported by Digital Wholesale Solutions – which takes up its position as lead sponsor for the first time this year.
Accolades up for grabs include sales and marketing team awards in reseller, vendor and distributor categories plus special awards such as Best Company to Work For, Best Apprenticeship Scheme and Best Partner or Customer Event.   
For more details on how to join the party on December 10th go to https://www.cdsalesawards.com/bookyourplace.php
FOR FURTHER INFORMATION CONTACT NIGEL SERGENT nsergent@bpl-business.com.