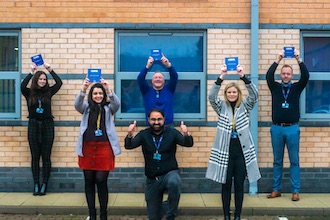 Leeds-based Lily Comms smashed all records at this year's Comms Dealer Sales Awards CDSMA), picking up five trophies including the coveted team of the year accolade.   
Managing Director Chris Morrisey said: "We are absolutely bowled over. And the fact it was split across various elements of the business, made it even more important. This industry is a fantastic place to be. It's where dreams are made!"
Lily won Small Reseller Team if the Year, Best Social Media/PR Campaign, Best Apprenticeship Scheme, Best Company to Work For and the Comms Dealer Team of the Year Award.
The awards, hosted by radio and television presenter Colin Murray, were streamed live from the London Marriott Hotel in London's Mayfair on December 10th and were sponsored for the first time by Digital Wholesale Solutions.
CEO Terry O'Brien, who announced the awards alongside Comms Dealer Editorial Director Nigel Sergent, said: "These awards are very special because they include people who are real heroes and often don't get the credit they deserve. That's why we are very happy to support them. Congratulations to all the winners and to the Comms Dealer team as well for putting another fantastic event together in such difficult circumstances."
9 Group, Gamma, Network Telecom, Pragma and Virtual 1 all picked up an impressive brace of awards while Union Street won 'Vendor Channel Sales Team' for the third year on the spin.
"It was fantastic to see so many people from the channel community tune in to the streamed CDSMA finals event hosted by the irrepressible Colin Murray. Our Christmas theme went down really well, and it was heart-warming to see some many groups and individuals enjoying themselves and celebrating the success of the their sales and marketing teams," said Comms Dealer Editorial Director and awards co-ordinator Nigel Sergent.
"Many thanks to DWS and all our sponsors for supporting the event plus everyone who participated and congratulations to all the winning and highly commended teams."
This year's CDSMA hall of fame...
Comms Dealer Sales & Marketing Team of the Year: Lily Comms
Best Company to Work For: Lily Comms 
Service Provider Channel Sales Team of the Year: Agilitas
Service Provider Channel Marketing Campaign: 9 Group
Service Provider Channel Marketing Team: 9 Group
Vendor Channel Sales Team: Union Street
Vendor Channel Marketing Team: Virtual1
Vendor Channel Marketing Campaign: Inform Billing 
Distributor Channel Sales Team: Pragma
Distributor Channel Marketing Team: Pragma
Distributor Channel Marketing Campaign: Beyond
Best Partner/Customer Event: Gamma
Charity & Fundraising Award: Virtual1
Best Reseller Sales Support Team: Network Telecom
Best Supplier Sales Support Team: Gamma
Best Social Media/ PR Campaign: Lily Comms
Best Apprenticeship Scheme: Lily Comms
Small to Medium Reseller Sales Team: Lily Comms
Small to Medium Reseller Marketing Team: MPS Networks PLC
Large Reseller Sales Team of the Year: Focus Group
Large Reseller Marketing Team of the Year: Network Telecom