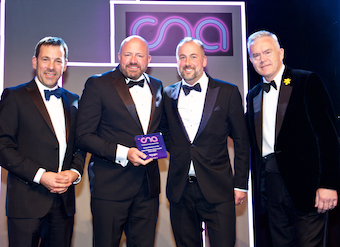 The ICT channel's superstars were rewarded and celebrated at this year's Comms National Awards ceremony (main sponsor 9 Group) held at London's Hilton on Park Lane on October 10th, and hosted by BBC newsreader Huw Edwards. The event also featured former Spandau Ballet front man Tony Hadley who performed a brace of classics that added extra sparkle to the 1980s themed extravaganza.
This year's event saw Focus Group founders Chris Goodman and Ralph Gilbert (pictured) crowned Entrepreneurs of the Year, while two new awards for achievements in Diversity and CSR were collected by Sky Business and SCC respectively.
SME Reseller of the Year went to Best 4 Business Communications and UK Enterprise Reseller of the Year was picked up by triple award winner 4net Technologies which also bagged the Best Enterprise Cloud Solution and Best Reseller Innovation gongs.
Comms Dealer Editorial Director Nigel Sergent said: "I would like to thank everyone who entered and sponsored the awards and contributed to making it a night the remember."
This year's Comms National Awards Hall of Fame
Comms National Entrepreneur of the Year Award  - The Founders of Focus Group, Chris Goodman and Ralph Gilbert
Best Network Award - Virtual1
Best Wholesale Service Provider for Companies up to £10m Turnover - Jola
Best Wholesale Service Provider for Companies With A Turnover Above £10m - Digital Wholesale Solutions
Best SME Telephony System - Splicecom
Best End Point or Device - Jabra
Best Hosted Telephony Platform - Gamma
Best Comms Distributor - Nimans
Best Mobile Distributor - Jola
Best IT Distributor - Tech Data
Best Call Management Solution - Tollring
Best Billing Platform - Inform Billing
9 Group Customer Service Award for Companies Below £5m Turnover - ICA
9 Group Customer Service Award for Companies Above £5m Turnover - Aerial Direct
Best SME Vertical Market Solution - Cirrus
Enterprise Vertical Market Solution - Evoke Telecom
Best SME Cloud Solution - Best 4 Business Communications
Best Enterprise Cloud Solution - 4net Technologies
Best SME UC Solution - Cisilion
Best Enterprise UC Solution - Incom-CNS Group
Best SME Mobile/IOT Solution - CSL
Best Enterprise Mobile or IOT Solution  - StrattoOpencell
Best Channel Support Service for Companies Below £10m Turnover - ProVu Communications
Best Channel Support Service for Companies Above £10m Turnover - Zest4
Best Channel Portal - ICUK.net
Best Reseller Innovation - 4net Technologies
Best Supplier Innovation - PRD Technologies
Diversity Award - Sky Business
CSR Award - SCC
Comms National Awards SME Reseller of the Year - Best 4 Business Communications
UK Enterprise Reseller of the Year - 4net Technologies