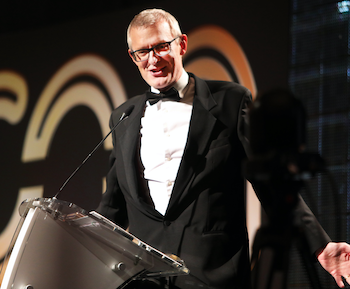 The ICT channel's best performers were rewarded and celebrated at this year's Comms National Awards ceremony (main sponsor Digital Wholesale Solutions) held at London's Hilton on Park Lane on October 13th, and hosted by broadcaster and journalist Jeremy Vine (pictured). 
This year's stellar event saw Focus Group scoop a trio of gongs including the much coveted Reseller of the Year award. 'We are genuinely honoured to have been recognised across multiple categories at this year's CNA's. Business transformation is key to our business offerings and we're extremely proud of the progress Focus Group has made over the last 12 months," said CEO Barney Taylor.
Onecom Group CEO Martin Flick was crowned Entrepreneur of the Year. He said: "This year has been stand out in my 22 year industry career and with the support of the team, my Board and our investors at LDC we have even more exciting times ahead.
"Our industry is facing into a time of seismic technology shift, alongside political and economic uncertainty. The industry is ideally placed to support UK PLC facing into those challenges ahead."
The event followed another record entry and due to the quantity of entries received the largest ever panel of judges was assembled. "In the current economic climate we expected a drop in entries this year, so to receive a record of nearly 200 is astonishing," said Comms Dealer Editorial Director Nigel Sergent. 
"Once again, the Comms National Awards demonstrated everything that is great about our channel and the ICT industry. This year's results provided some surprises and it was great to see some smaller organisations get recognition for their sterling work over the last year. 
"Most importantly, of all it was great to see everyone celebrating this dynamic and collaborative community so enthusiastically. Roll on next year!"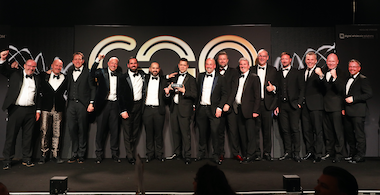 Pictured: Focus Group celebrate winning the Reseller of the Year award

The Comms National Awards 2022 Hall of Fame
COMMS NATIONAL AWARDS ENTREPRENEUR OF THE YEAR - MARTIN FLICK, CHIEF EXECUTIVE OFFICER, ONECOM GROUP
BEST CALL MANAGEMENT SOLUTION - TOLLRING
BEST BILLING SOLUTION - UNION STREET TECHNOLOGIES
BEST ICT DISTRIBUTOR - WESTCON
BEST UCAAS VENDOR - PRAGMA
BEST CCAAS VENDOR - GAMMA
BEST CARRIER OR NETWORK - CITYFIBRE
BEST WHOLESALE SERVICE PROVIDER - DIGITAL WHOLESALE SOLUTIONS
BEST WHOLESALE NETWORK PROVIDER - ITS TECHNOLOGY GROUP
BEST SME UC  SOLUTION - START COMMUNICATIONS
BEST ENTERPRISE UC SOLUTION - GLOBAL 4
BEST SME MOBILE/IOT SOLUTION - INCOM-CNS GROUP
BEST ENTERPRISE MOBILE/IOT SOLUTION - UPLANDS 
BEST VERTICAL MARKET SOLUTION - FOCUS GROUP
BEST MANAGED SERVICE SOLUTION - CLOUD GEEKS
BEST SME CONTACT CENTRE  SOLUTION - GLOBAL 4
BEST ENTERPRISE CONTACT CENTRE SOLUTION - BOXX COMMUNICATIONS
RESELLER BUSINESS TRANSFORMATION AWARD - FOCUS GROUP
SME RESELLER DEAL OF THE YEAR - VOIP UNLIMITED
ENTERPRISE RESELLER DEAL OF THE YEAR - OPUS TECHNOLOGY
BEST PARTNER PROGRAMME (UP TO £10M) - PANGEA
BEST PARTNER PROGRAMME (ABOVE £10M) - GAMMA
BEST CHANNEL PORTAL - PROMPTVOICE
BEST CHANNEL BUSINESS SERVICE - SUPPORT TO WIN
BEST RESELLER INNOVATION AWARD - REDSQUID
BEST SUPPLIER INNOVATION AWARD - STRATEGIC IMPERATIVES
DIVERSITY & INCLUSION AWARD - JOLA
SUSTAINABILITY AWARD - COBALT
RESELLER OF THE YEAR - FOCUS GROUP
The awards process, organised by Comms Dealer publisher BPL Business Media has been staged annually for over 20 years and recognises resellers, vendors, distributors, network providers and service providers that have excelled in their delivery of innovative products and services over the last year.