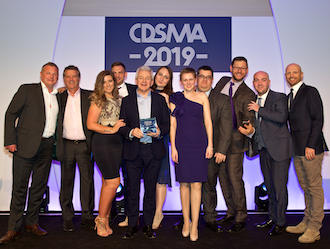 Hosted by inspirational England World Cup winning rugby legend Matt Dawson this year's Comms Dealer Sales & Marketing Awards (CDSMA) extravaganza (staged at the London Marriott Hotel in Mayfair on May 2nd and sponsored by KCOM) once again recognised and celebrated the channel's revenue generating Superheroes.
Stand-out winners were Daisy Wholesale and IntY which both scooped a hat-trick of awards (Daisy Wholesale is pictured above collecting the Comms Dealer Sales Team of the Year award) while Pure Telecom and Sirus Telecom won for the second year in succession. 
Virtual1 and Windsor Telecom were also top winners, securing the coveted 'Best Company to Work' For awards. 
"The CDSMA is always a highlight of the BPL spring calendar and the event was as motivating and enjoyable as ever, with the channel's 'Superheroes' gaining much deserved credit for their amazing sales and marketing efforts," said Comms Dealer Editorial Director Nigel Sergent.
"The event once again underlined what a dynamic and inspiring industry we work in and recognised in style the teams that have made a big difference to their companies over the last year."
 
Entering the 2019 CDSMA Hall of fame are… 
DISTRIBUTOR CHANNEL SALES TEAM OF THE YEAR – INTY
DISTRIBUTOR CHANNEL MARKETING TEAM OF THE YEAR – INTY
DISTRIBUTOR CHANNEL MARKETING CAMPAIGN OF THE YEAR – WESTCON 
SERVICE PROVIDER CHANNEL SALES TEAM OF THE YEAR – DAISY WHOLESALE 
SERVICE PROVIDER CHANNEL MARKETING TEAM OF THE YEAR – 9 GROUP 
SERVICE PROVIDER CHANNEL MARKETING CAMPAIGN OF THE YEAR – PANGEA 
VENDOR CHANNEL SALES TEAM OF THE YEAR – UNION STREET
VENDOR CHANNEL MARKETING TEAM OF THE YEAR – INFORM BILLING
VENDOR CHANNEL MARKETING CAMPAIGN OF THE YEAR – VIRTUAL1
RESELLER SALES TEAM OF THE YEAR (UP TO £2.5m) – SIRUS TELECOM
RESELLER SALES TEAM OF THE YEAR (£2.5m- £10m) – PURE TELECOM
RESELLER SALES TEAM OF THE YEAR (above £10m) – BERRY TELECOM
RESELLER MARKETING TEAM OF THE YEAR (up to £10m) – MPS
RESELLER MARKETING TEAM OF THE YEAR (above £10m) – BERRY TELECOM
RESELLER MARKETING CAMPAIGN OF THE YEAR – FOCUS GROUP
BEST SOCIAL MEDIA CAMPAIGN – PRAGMA
BEST PR CAMPAIGN – SWCOMMS
BEST APPRENTICESHIP SCHEME – BT WHOLESALE
BEST PARTNER/CUSTOMER EVENT – INTY
BEST SALES SUPPORT TEAM – DAISY WHOLESALE
CHARITY & FUNDRAISING AWARD – GAMMA
BEST COMPANY TO WORK FOR (UNDER £10m) – WINDSOR TELECOM
BEST COMPANY TO WORK FOR (OVER £10m) – VIRTUAL1
COMMS DEALER SALES TEAM OF THE YEAR – DAISY WHOLESALE