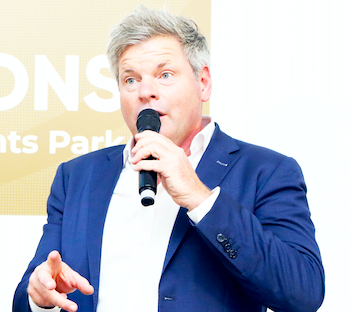 Congrats to the winners of this year's Comms Dealer Channel Champions Awards, held as a celebratory summer garden party on July 7th with the awards ceremony staged in an open marquee and hosted by TV presenter Mark Durden-Smith (pictured). 
The event recognises the often-unseen teams in channel organisations across the business and management spectrum including sales, marketing, technical, sales support, finance, executive leadership and culture. There were also special awards to recognise excellence in event management, apprentice schemes and charity work.
Comms Dealer Editorial Director and Awards Co-ordinator Nigel Sergent enthused: "We had a 20% increase in entries this year, underling the resilience of businesses in the channel which have bounced back from the Covid -19 pandemic."
The first award of the afternoon was presented to Wildix, which collected the Channel Champions Team Spirit Award for its all-embracing support of staff in war-torn Ukraine.
Sergent added: "What Wildix achieved in evacuating their Odesa based teams to safety in Italy was astonishing and they thoroughly deserved to be recognised."
Wildix UK Channel Manager Ian Rowan commented: "This means a lot to all of us at Wildix. Winning this award is not about the workplace. It's about the people and these people continue to show resolve and strength beyond imagination each and every day."
 
Special praise went to Pangea and CityFibre, who scooped a trio of awards, and young apprentice Bailey Odling-Thomas, whose sterling work since joining KSM Telecom helped the Hayling Island based company secure the Best Apprentice Scheme Award against stiff competition.
Hats off to all the 2022 Channel Champions Awards winners!
Reseller Sales & Account Management Team - CLOUD VOICE & DATA
Reseller Marketing Team - FOCUS GROUP
Reseller Technical Support & Engineering Team - FOURNET
Reseller Sales Support Team - FIDELITY GROUP
Reseller Executive Leadership Team - ICE COMMS
Reseller Billing & Finance Team - NCG
Reseller People & Culture Team - PRESTIGE TELECOM GROUP
Vendor/Distributor Sales & Account Management Team - GAMMA
Vendor/Distributor Marketing Team - CITYFIBRE
Vendor/Distributor Technical Support and Engineering Team - PROVU COMMUNICATIONS
Vendor/Service Provider Sales Support Team - DIGITAL WHOLESALE SOLUTIONS
Vendor/Distributor Executive Leadership Team - VOIP UNLIMITED
Vendor/Distributor People & Culture Team - CITYFIBRE
Service Provider Sales & Account Management Team - PANGEA
Service Provider Marketing Team - PANGEA
Service Provider Engineering and Technical Support Team - IPNETIX
Service Provider Executive Leadership Team - PANGEA 
Service Provider Billing & Finance Team - ZEST4
Service Provider People & Culture Team - GIACOM
Apprentice Champions - KSM TELECOM
Event Champions - VIRTUAL1
Charity Champions - START COMMS
Channel Champions Team of the Year - CITYFIBRE PEOPLE & CULTURE TEAM
Channel Champions Team Spirit Award - WILDIX