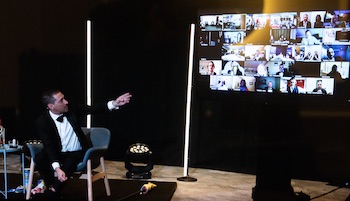 The ICT channel's leading lights were celebrated at the 2020 Comms National Awards (sponsored by Digital Wholesale Solutions), streamed live on October 22nd from the Marriot on Grosvenor Square in London into offices and houses across the UK.
The broadcast quality interactive awards 'show' was hosted by radio and television presenter Colin Murray (pictured) who engaged with hundreds of 'viewers' face-to-face on screen and via social media (#CNAwards2020) throughout the proceedings which saw Elite Group CEO Matt Newing bag the Entrepreneur of the year award.
Double award winners included Union Street, Gamma, Jola and Digital Wholesale Solutions while EveryCloud Security snapped up a trio of gongs including Enterprise Reseller of the Year. Uplands collected the SME Reseller of the Year award.
"There were some fantastic triumphs and heart-warming stories to tell, but on the day the real winner was the entire channel which demonstrated its ability to adapt and deal with unprecedented situations created by the pandemic rapidly and intelligently," enthused Comms Dealer Editorial Director and awards co-ordinator Nigel Sergent.
 "I am extremely grateful to our judging panel who gave up their time to judge the awards, and a final word of thanks must go to our headline sponsor DWS and all our award and hospitality sponsors for their invaluable support."
Newing added: "I'm grateful and I'm amazed to have received the Entrepreneur of the Year award. It's recognition for what we are achieving out there."
2020 Comms National Awards winners...
ENTREPRENEUR OF THE YEAR – Matt Newing, CEO of Elite Group
SME RESELLER OF THE YEAR – Uplands
ENTERPRISE RESELLER OF THE YEAR – EveryCloud Security
RESELLER KEEPING BRITIAN WORKING AWARD – BDR Group
SUPPLIER KEEPING BRITAIN WORKING AWARD – Gamma
BEST CALL MANAGEMENT SOLUTION – Akixi Limited
BEST BILLING SOLUTION – Union Street Technologies
BEST ICT DISTRIBUTOR – Jola Cloud Solutions
BEST END POINT OR DEVICE – Jabra
BEST HOSTED TELEPHONY PLATFORM – Digital Wholesale Solutions
BEST SME TELEPHONY SYSTEM – Wildix
BEST FIXED LINE NETWORK – Virtual1
BEST WHOLESALE SERVICE PROVIDER FOR COMPANIES (up to £10m t/o) - VanillaIP
BEST WHOLESALE SERVICE PROVIDER FOR COMPANIES (over £10m t/o) – Digital Wholesale Solutions
BEST SME UC SOLUTION – HighNet Telecoms
BEST ENTERPRISE UC SOLUTION – Incom-CNS Group
BEST SME MOBILE OR IoT SOLUTION – Uplands
BEST ENTERPRISE MOBILE OR IoT SOLUTION – SaltDNA
BEST SME CLOUD SOLUTION – Charterhouse Voice and Data
BEST ENTERPRISE CLOUD SOLUTION – EveryCloud Security
BEST SME VERTICAL MARKET SOLUTION – Windsor Telecom
BEST ENTERPRISE VERTICAL MARKET SOLUTION – EveryCloud Security
BEST CHANNEL SUPPORT SERVICE – Cityfibre
BEST CHANNEL PORTAL – Gamma
BEST RESELLER INNOVATION AWARD – Capito
BEST SUPPLIER INNOVATION AWARD – Union Street
DIVERSITY AWARD – Jola
CSR AWARD – Cirrus