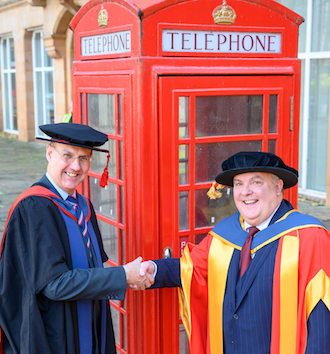 An erstwhile radio techie has picked up an Honorary Doctor of Science degree from the University of Salford for his long-term involvement with the institution, helping to shape programmes around science and innovation and holding masterclasses.
Avoira's MD Andrew Roberts has accrued 40 years comms industry experience and has a 20 year relationship with the university.
He said: "It is a great honour for my life's work, first in radio comms, then telecoms and most recently in the field of Unified Communications, to be recognised with this award."
 
Professor Nigel Linge, Director of the Data Science and Computing Directorate within the School of Science, Engineering and Environment, said: "Andrew is a vital industry partner for the university, playing a pivotal role in the development of our programmes, acting as a role model and provider of masterclasses for students and supporting us in the delivery of public outreach and academic conferences."
 
Roberts started his career as an apprentice at Avoira, then known as Pennine Telecom, before working his way through the ranks.