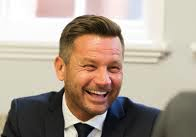 Former Daisy big cheese Neil Muller (pictured), who quit the Nelson-based business in June this year, has rocked up at Timico as chief exec in a move that coincides with the MSP's acquisition of London-HQ'd IT managed services provider 25sevenIT, its first purchase under Horizon ownership.
25sevenIT boasts a blue chip customer base with a particular focus on the hospitality sector. The multi-million-pound deal also boosts Timico's consultancy and cloud capabilities. 
Timico Chairman Geoff Neville stated: "This acquisition marks an exciting development in the evolution of the business."
25sevenIT MD Mark Hanson added: "Technology should be an investment that delivers a significant return to the bottom line of a business, and we've been acquired by a company with objectives and priorities that align with ours."
The acquisition and instatement of Muller followed the appointment of John Holt as Timico COO. 
Former CEO Ben Marnham held the position since August 2016 when he took over from company founder Tim Radford who became Executive Chairman.
Timico was established by Radford in 2004 alongside a small but ambitious team, some of whom he'd worked with previously at Project Telecom (a company Radford set up in 1987 and achieved revenues of £330m before being sold to Vodafone in 2003).